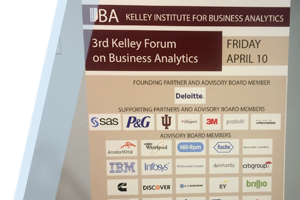 Analytics Leaders Discuss the Internet of Thingsg
Smart homes, connected cars, and intelligent factories have become mainstream. These innovative assets, built and driven by harnessing big data and predictive analytics, create consumer and business environments where "I Want What I Want When I Want It" ("IWWIWWIWI") is not only justifiable, but increasingly the societal standard.

This new standard has strong implications for businesses seeking to navigate their respective landscapes and stay ahead of the curve. Citing examples like Amazon's personalized shopping experience and next day (soon-to-be same day) shipping, dunnhumbyUSA's Senior Vice President Michael Wilhite proclaimed, "The 'IWWIWWIWI' era has arrived, is here to stay, and will impact all industries immensely and ongoing," while speaking at the Indiana University Kelley School of Business Institute for Business Analytics 2015 Forum on April 10.
The forum, an annual event at Kelley in its third year, joins analytics and thought leaders from various industries and firms, including C.H. Robinson, Deloitte, 3M, IBM Corporation, and Eli Lilly and Company, to discuss current and future impact of big data, predictive analytics, and the Internet of Things (IoT), as well as subsequent implications for Kelley in educating and preparing top talent.

"The IoT enables everyday physical objects to be connected to the internet and capable of identifying and interacting with other devices. The IoT ecosystem is composed of many types of devices, including the simplest, radio frequency identification (RFID), through intelligent with their own operating systems," detailed Terry McFadden, associate director of Global Business Services for The Procter & Gamble Company. This creates a treasure trove of information to facilitate consumer and business applications.
The ongoing build-out of IoT will impact how businesses and consumers strategize and execute logistics. Deloitte highlighted the use of data analysis techniques to strengthen the replenishment processes for its clients. "We drove holistic value through analyzing stacked bar charts with up to 50 characteristics per bar. Together, our team and our partner drew significant insights," specified Deloitte's Manager of Strategy and Operations Chris Noyes. Shipment tracking expectations have been evolving for years. Companies like FedEx normalized the consumer standard of "real-time tracking updates" on its millions of shipments annually. Then, they used the technology to monitor driver performance, ensure route efficiency, and market sustainability results.
The evolution at FedEx continues. "We have now gone from 'Where is the package?' to 'What's going on in the package?' for customers seeking to capitalize on advanced tracking capabilities," said FedEx Vice President Brent Meyers about RFID temperature readers. Understanding the temperature of a package throughout transit provides significant value to customers seeking six sigma quality logistical processes, like food distributors and drug manufacturers.
"Management teams and employees are providing enhanced value to customers by combining internal data warehouses with IoT sources to support order optimization, pricing, and capacity decisions," C.H. Robinson Director of Finance Mike Meier noted while moderating the Supply Chain Analytics portion of the forum. "For example, real time pricing mechanisms incorporate characteristics such as lane, corridor, commodity type, product value, risk, weather, and macro- and micro-economic conditions. This enables us to be 'customer-centric' while also supporting additional enterprise initiatives."
Those additional enterprise initiatives include increasing use of self-service data marts, as McFadden refers to them, where employees can mine and analyze data. This access enables exploration and guided decision-making, leading to greater employee empowerment and progressing value for partners.
Nearly all the speakers addressed privacy and governance principles. The consensus indicated firms that harness the power of data to the betterment of their customer base, while ensuring consumer privacy, will be most successful. According to McFadden, "The IoT will continue to surprise us and present opportunities and challenges. There will be social issues and unintended consequences."
Successful firms will be those least surprised by IoT's implications. These firms will be ready to capitalize on positive disruptions while minimizing negative disruptions.