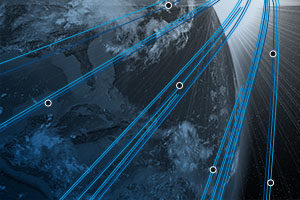 Is Your Fresh Supply Chain Ready for the Holiday Surge? | C.H. Robinson
The holiday season is a time for traditions—especially when it comes to the food that's prepared and served at family meals and festive gatherings. And with produce being a key ingredient in many of those treasured and favorite recipes, you might say that the food supply chain is an important part of the holiday season.
Transporting delicate, temperature sensitive produce adds an additional degree of complexity to the supply chain. And when the winter holiday season hits, there are even more considerations to keep in mind. After all, consumers expect their favorite retailers to have the produce they need to complete the recipes and enjoy the meals they look forward to all year.
What can threaten the holiday surge?
At several points throughout the year, spikes in demand can threaten fresh supply chains. Often, consumers will substitute the affected items with other produce that is readily available. But during a winter holiday surge, consumers want very specific items for their holiday cooking—such as oranges, asparagus, sweet potatoes, cranberries, and green beans—and swapping items simply won't do.
Potential winter weather issues in growing regions and along the entire route—from fields to store locations—can also impact supply chains during the busy holiday season. Winter storms and their aftermaths—like snow- or ice-packed roads—can quickly stop the supply chain, causing delays or out of stock situations.
Keeping your supply chain moving during holiday surges
To properly plan for all of the added risks and pressures the holidays can put on a fresh supply chain, work with a logistics provider that has the supply chain management experience, flexibility, relationships, and multi-pronged solutions in place to respond to challenges.
The likelihood of something going wrong in the fresh supply chain during the holidays is much higher than other times of the year. It can be hard to predict exactly what will go wrong—or when it'll happen—but working with a third party logistics provider (3PL) that's agile, armed with backup plans, and solution-oriented can make all the difference in keeping your fresh produce moving.