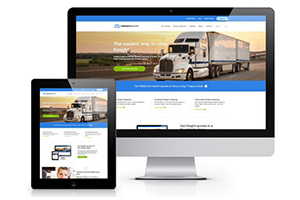 Freightquote: A Killer Combo of Talent and Technology | Transportfolio
There is a lot happening in today's world of ecommerce and the Internet of Things (IoT) that relate to the transportation industry, but it takes more than just data and technology to be a best in class organization. Successful companies in today's marketplace are backed by supply chain professionals who understand how to move freight. They involve experts who understand customer needs and how to get the job done, all while providing an exceptional customer experience that will keep them coming back.

This is what differentiates Freightquote, a company of C.H. Robinson and a leading freight service provider that serves customers with online self-service tools and a team of freight experts. Freightquote's combination of talent and technology is just one example of how C.H. Robinson is continuing to invest in people, processes, and technology that help customers streamline their transportation needs.
C.H. Robinson acquired Freightquote in 2015 in an effort to continue our enthusiastic approach to serving businesses of all sizes. Freightquote's self-service technology allows customers to compare freight rates online and book transportation service based on their own requirements and budget. Named a 2016 top 100 logistics IT provider, Freightquote offers a wide-ranging team of talented professionals who are transportation experts and passionate about helping customers with their shipping needs. It can be difficult to understand and execute the many challenges of transportation, but at Freightquote, that's not the case. Customers can easily contact an expert—a real person to talk with and lean on for guidance.
When I considered what could take Freightquote to the next level, I knew their online presence could be improved. I sat down with Chris Kolquist, president of Freightquote, to discuss an enhanced online presence, and he told me that a new website would be critical to ensure easy connectivity with Freightquote's customers. A new website, he said, would further support Freightquote's industry-leading ecommerce presence with a focus on its customers. And so the challenge was set.
Today, I'm proud of our Freightquote team and their efforts to bring their customers a new website. Now, Freightquote's leading ecommerce technology and expert staff are supported by the new site, which was created with customer input in order to put forward a better user experience.
The updated website offers a new look and feel that will enhance a customer's journey on the site, as well as their ability to secure the help they need in a fast and efficient manner. Customers helped uncover and inform the brand's personality, characteristics, and values. The new site reflects the many choices customers have in working with Freightquote, as well as our commitment to providing energetic, helpful, and professional service to our customers.
The site also features white papers, case studies, and helpful new videos, as well improved on-page content to help prospects and customers become familiar with the Freightquote brand. They can learn about the company's business tools that allow them to integrate Freightquote's capabilities into their own ecommerce sites or internal systems through leading application program interface (API) options.
There are a number of other additions to the site, including company news, Freightquote culture, FAQs, and customer testimonials. Freightquote's killer combo of talent and technology, alongside the improved website, is sure to enhance your transportation shopping and shipping experience. We welcome you to visit the Freightquote website, run quotes, purchase transportation, and meet or engage with the Freightquote team. It's truly worth a look! I'd love for you to share your thoughts on the new website in the comments section below.