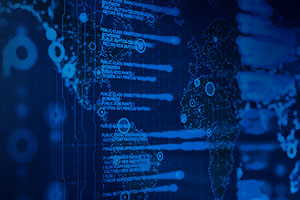 When someone mentions the Internet of Things (IoT), people often think of smart devices, wearables, or even how your heating at home regulates itself. However, the influence of the IoT goes far beyond that. More specifically, it's impacting the logistics world and global supply chains.

The IoT is already disrupting the way we think about supply chains, and it's happening fast. Basically, the IoT provides us with the advantage of using the items that we already have, such as our smartphones, to create more responsive and manageable supply networks. IoT will enable companies to have a wider reach, without all the costs associated with the multiple platforms we needed just a few years ago.
Why IoT Apps and Supply Chains Go Together
Supply chains are actually prime candidates for IoT applications because they have so many moving parts. Third parties, carriers, and drivers interact with the manufacturer, suppliers, DCs, retailers, and customers as products move. Companies can keep less inventory on hand and more in motion if their supply chain network can reflect accurate product locations and specifications.
Technologies are already in place to manage disparate parts of the supply chain, but IoT applications can actually bring the disparate parts together to create an information ecosystem that benefits all its participants. IoT technologies are quite distinct from the information technology tools being used today. As Dr. Shardul Phadnis explained in a recent report, IoT applications can collect a vast variety of data types, share it quickly across multiple trading partners, and integrate many sources of information in innovative ways to enable better decision making. It is up to each industry to determine what types of data should be combined and integrated to create that ecosystem.
Keeping Up With Enhanced Technology
Service providers of all types will need appropriate technology to participate in IoT applications. We recently released the Navisphere Driver App in Europe to help surface transportation companies prepare for this critical transformation. Drivers and shippers who use the Navisphere Driver App obtain accurate, near-real-time updates on loads moved by C.H. Robinson. Because all the information is integrated, companies can make more proactive decisions when—or even before–the estimated time of arrival will deviate from the plan so corrective measures can be taken faster. The app drives greater efficiency than ever before into supply chains and enhances security for the companies who use it to help reduce asset loss.
Navisphere Driver App is part of our Navisphere global technology platform, which integrates with almost any structured data file or ERP. Navisphere brings all aspects of a global supply chain together—for shippers, carriers, and customers—so everyone can share information about shipments. It provides full visibility to operations, 24-hour online tracking, and tools for more informed decision making.
Final Thoughts
The use of IoT in supply chains is still in its infancy, but it is likely to transform supply chains worldwide. Our latest development in Europe, the Navisphere Driver app, is an example of how IoT technologies deliver deeper intelligence for more knowledgeable supply chain networks. The app automates processes while providing near real time visibility to all shipments. It works well in today's digitalized business settings and is even available on mobile phones so all the companies that use it can work smarter and faster, plan better, and make more informed business decisions.
Want to learn more about the Navisphere Driver app in Europe? Read the press release or connect with one of our logistics experts.