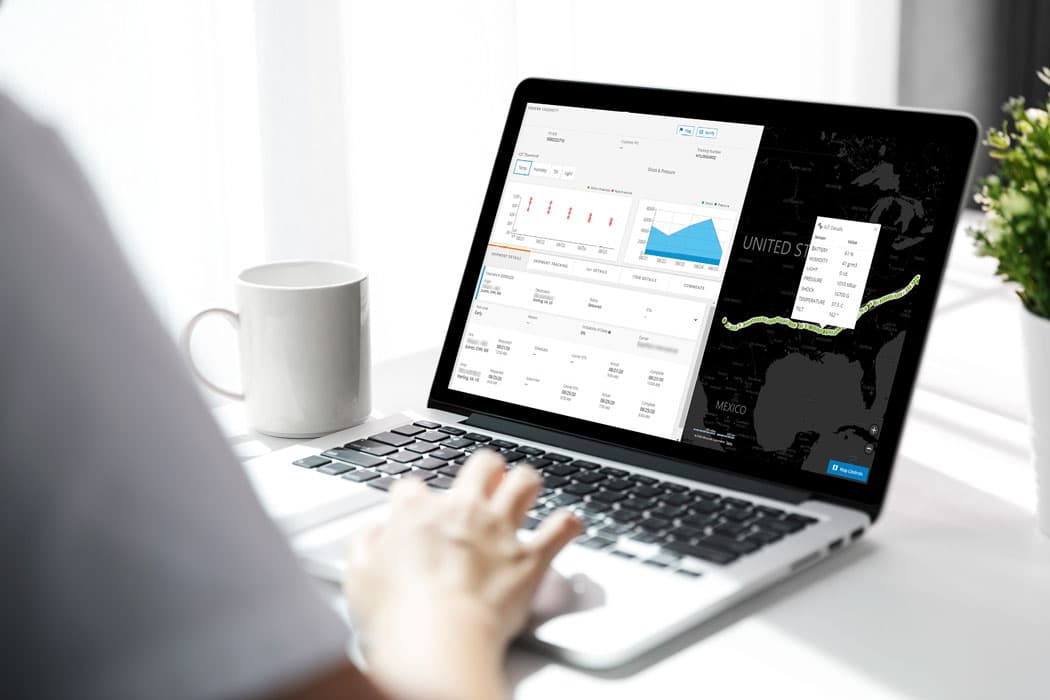 Today's consumers are very particular about their supply chain experience. They want to know how their order is progressing through every stage of the journey in a global and dynamic environment. Speed, flexibility, and consistency are not only expectations but demands, which make supply chain execution and visibility vital to delivering a positive customer experience.
In a survey from Voxware, 69% of respondents said they are less likely to shop with a retailer if an item is not delivered within two days of the date promised. Additionally, 97% of consumers expect to be able to live track their orders and receive timely updates throughout the shipping process. These numbers demonstrate the necessity of having real-time supply chain visibility and predictability, and conversely, the impact of not having it.
Our real-time visibility tool, Navisphere® Vision, was built to provide visibility to all inventory in the supply chain whether it is at rest at our customer's facilities or in transit in carrier networks – in all regions and utilizing all modes. But because shippers need more than just visibility, the technology is also predictive, proactive, and able to flag disruption before it occurs.
We are continuing to invest in expanding and enhancing the Navisphere Vision platform's user interface, features, and capabilities to sustain our solution as a best-in-class technology for global shippers who are experiencing likely the most dramatic pace of change our industry has ever encountered. A part of this investment is partnering with best in class products that bring the most value to our customers.
Cloud and IoT Opportunities in Supply Chain
Our partnership with Microsoft is vital to our overall strategy for this product. In 2019, we successfully deployed Navisphere® Vision to the Microsoft Azure Cloud. By combining these technologies, we're able to offer unlimited scalability to our customers, premier data security, and increased application speed and responsiveness in any region in the world. Additionally, by deploying our product to Azure and becoming a certified partner on the Microsoft App Store we are able to access thousands of partners that have a diverse set of solutions and utilize the many different Azure functionalities that can enhance our application.
One of the Azure offerings that we have successfully enabled to the Navisphere Vision platform and are excited to offer to our customers is Internet of Things (IoT) connectivity through Azure IoT Central. Highlighting the Microsoft partner network, Intel has partnered with us through Azure IoT Central to allow us to deploy industry leading supply chain monitoring devices. We are onboarding Intel's IoT devices to take shipment monitoring and tracking to the next level measuring six physical elements, along with real time location data, that could impact our customer's supply chains: shock, tilt, humidity, light, temperature, and pressure.
We are live in production with these devices and here is high level overview of the process:
First, we provision the IoT device from the Azure cloud to the specific shipment and subsequently the product using Navisphere Vision UI. The user can define specified thresholds of measurement (temperature, light, humidity, etc.) that the device needs to stay within during transit. We are also able to achieve a parent to child relationship where our customers can deploy many tags that talk to the gateway, which then posts to the cloud in intervals our customers can define. Therefore, you can now track the various dimensions mentioned above across 42 pallets loaded into one 40ft high cube ocean container.
The device(s) then are physically affixed to the shipment via a pouch label or zip ties to the pallet. The gateway then starts transmitting via cellular or WiFi to the Azure cloud and via an API in real-time to the Navisphere Vision
Once those steps occur, not only can customers start to see the real-time location data of their products, but they can also monitor and be alerted to potential spoilage, damages, or tampering of their goods, with the goal of engaging and recovering from the issue in real-time. They can see when and where the event occurred and immediately begin proactive mitigation. This is a game changer for shippers such as Microsoft who have product that is high value, perishable, or hazardous. This allows our customers to ensure the transport of these types of goods were safe and secure, giving them comfort and insurance that they can confidently sell to their respective customers and marketplaces.
The growth and advancement of IoT technology and connectivity across the world presents an exciting opportunity for our industry, and we think the impact of these connected devices is critically important to global supply chains. We're excited about our collaboration with Microsoft and how the combination of our individual technologies and investments will impact our industry, and most importantly, benefit our customers.
Learn more about how Navisphere Vision can help make your supply chain more predictive, automated and connected, and let us know if you want to learn more about this IoT solution!