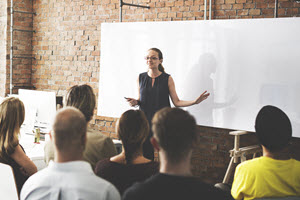 Intermodal Shipping is Growing and the Railroads are Ready | Transportfolio
Tight truckload capacity usually means more intermodal shipping. But intermodal service can add efficiency, flexibility, and cost savings to a supply chain in many different market conditions. The good news is ongoing investments by railroads mean the future of intermodal is bright.
Infrastructure and technology
Infrastructure and technology | Transportfolio
Railroads across North America are heavily investing capital in their intermodal offerings—and have been for the past five years. Intermodal shipping will be a large growth driver for their businesses over the next 10-15 years. Their investment now in enhanced infrastructure and new technology mean railroads will be able to handle a considerable amount of growth without being overly strained. The changes include:
More intermodal ramps. North America's more than 70 intermodal ramps continue to expand. Many railroads are enlarging existing ramps that may be too small for growing volumes and opening new ones in peak lanes—including in Mexico and Canada.
Greater emphasis on security. Security is a growing concern for many intermodal shippers, which is why railroads have begun implementing automated gate systems (AGS). The manual process of verifying a driver's license has been replaced with more accurate and efficient automated technology. AGS can feature optical character recognition, biometric driver identification, and high definition video imaging.
Intermodal shipping visibility
Intermodal shipping visibility | Transportfolio
More than ever before, shippers expect visibility—both on the road and on the rails. Knowing exactly where a shipment is in transit has quickly become the expectation rather than exception. Companies and consumers expect near real-time notifications about every step of a product's journey—including facility and town names. And just like the truckload sector, intermodal providers are working hard to deliver.
Robust tracking systems on the rails. Railroad tracks across the country are equipped with high tech scanners. A single shipment traveling from Chicago to Los Angeles may receive as many as eight tracking updates per day while on the rails. This level of accuracy certainly appeals to intermodal shippers with high value and high risk products.
Lower visibility on the roads. That level of visibility isn't always possible on a ship or a trailer. The two main technologies used—mobile apps and container trackers—each comes with barriers. Mobile apps still rely on some human interaction and intermodal container tracking is a costly investment to retrofit older containers.
3 facts of intermodal shipping
3 facts of intermodal shipping | Transportfolio
Intermodal shipping is a unique mode, not simply a substitute for over the road trucks. And as such, there are a few things to remember about intermodal shipping:
Who is responsible for securing freight? The shipper. Unlike truckload shipping, where carriers are responsible for securing loads, the responsibility falls on the shippers for intermodal freight. Shippers can rely on help from a logistics provider or the railroad itself to learn how to properly block and brace their products—often provided free of charge.
A more sustainable option than other modes. Transferring 1% of truck freight to rail each year would reduce greenhouse gasses by 1.2 million tons. It's a more environmentally friendly shipping option than truckload, which means intermodal shipping can meaningfully reduce a supply chain's environmental footprint and help businesses meet sustainability goals.
Intermodal shipping: A complement to existing choices. Many businesses successfully supplement their over the road shipments with intermodal capacity when the time is right. An established modal selection plan can protect supply chains against seasonal, environmental, regulatory, and industry factors that could negatively impact your bottom line.
A flourishing future for intermodal shipping
A flourishing future for intermodal shipping | Transportfolio
It's safe to say that the advantages intermodal shipping can bring to supply chains across North America are helping intermodal volumes rise. And thanks to the foresight of railroads across North America, the infrastructure is already in place—or will be soon—to support whatever intermodal growth the future may hold.
As more shippers turn to intermodal shipping, we'll quickly see the question shift from, "Do you have any intermodal shipping?" to "How much intermodal shipping do you do?"