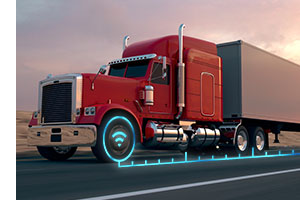 Don't Wait Until December: Get Ready for ELD Compliance Now | C.H. Robinson
As the deadline for the electronic logging device (ELD) mandate draws nearer, there are fewer roadblocks to stop it from happening. By December, you will likely be implementing ELDs rather than using paper logs—if you haven't already. Start preparing your business now and leverage this change to your advantage.

When do I need to be compliant with the ELD mandate?
The short answer is December 18, 2017. However, if you're already using automatic on-board recording devices (AOBRD)—or implement them before December 18, 2017, then you will have an additional two years to comply.
What will come from the ELD mandate?
One of the primary goals of the mandate is to create safer road conditions. According to the Federal Motor Carrier Safety Administration (FMCSA), compliance with the ELD mandate will prevent around 1,500 crashes, 475 injuries, and 22 deaths each year.1
Another thing you may notice is less paperwork. The FMCSA predicts the impact of the ELD mandate will save $1.6 billion per year in time and money spent on paperwork alone.2
In addition, because of the data ELDs can provide compared to paper logs, you may gain better planning tools when accepting freight. You may even be able to identify behaviors that lead to extra expenses, e.g., idling, hard braking, over-acceleration, etc. This data can also be leveraged to educate shippers on what characteristics their freight and lanes cause in-transit delays, inefficiencies and additional charges that ultimately impact their bottom line.
How will the ELD mandate affect my business?
No one can predict the future. But you can expect this new law to change the way you do business with shippers and 3PLs. The biggest potential challenges being discussed are:
• Difficulty choosing an ELD solution
• Initial and ongoing investment
• Driver training
• Impact to efficiencies
How these challenges will specifically affect your business will depend on your situation, but knowing what challenges you may face can help you better plan for them.
What steps do I take next?
December is right around the corner, don't wait to start working toward compliance. Start discussing the mandate with the truckload shippers and providers you work with regularly. An open conversation can help you understand their expectations, which can make your choices easier to make—before crunch time.
If you'd like to learn more about the ELD mandate, you can read our white paper, The ELD Mandate: What it Means for the Trucking Industry, or visit FMCSA's website.
Shopping for an ELD? Check out the ONE20 and Transflo discount offers through C.H. Robinson.
1. Federal Register, "Electronic Logging Devices and Hours of Service Supporting Documents: A Proposed Rule by the Federal Motor Carrier Safety Administration," https://www.federalregister.gov/d/2014-05827, March 28, 2014.
2. Ibid.