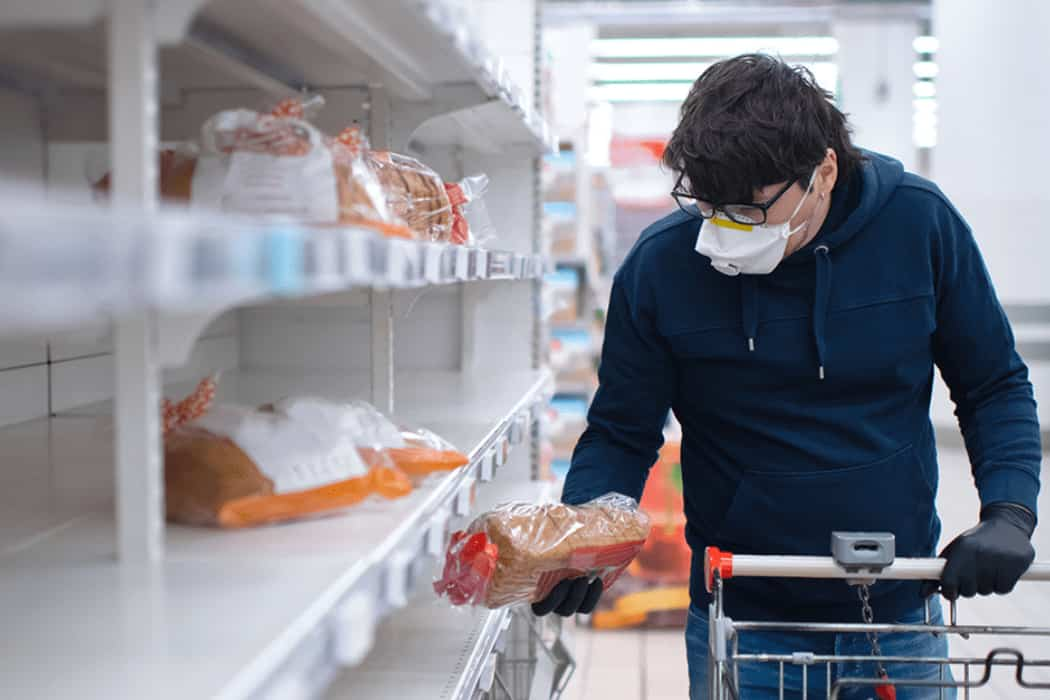 At this time last year, global supply chains were already in trouble. The world didn't know it yet, but we were somewhere between 60 and 90 days away from understanding what would happen.
With the Chinese Lunar New Year approaching in late January 2020, global shippers planned to order stock from Chinese suppliers ahead of the celebration as factories and ports would shut down for two weeks. What they didn't know is that these ports and factories would remain shut down as the safety restrictions of a global pandemic set in.
Due to lean inventory strategies, many manufacturers only keep 15-30 days of inventory on hand. Additionally, it takes about 30 days for an ocean vessel from China to deliver to Europe or the United States. This means most shippers received their last shipment of supply sometime between the middle and end of February.
The Lunar New Year paired with the COVID-19 outbreak triggered a massive gap in global supply we began to see late February and early March. This gap was then followed by a tidal wave of demand from panic buying as the virus spread globally. By March consumers and manufacturers alike could not obtain critical supply. Additionally, the United States and China were in the midst of a trade war, which further complicated the flow of goods through the world's supply chains.
New disruptions, old lessons
This global disruption has been characterized as 'unprecedented', but as supply chain professionals, we have seen the warning signs for years. Eight years ago, on the heels of Superstorm Sandy, we published a blog post on how major disruptions serve as grim reminders that supply chain resiliency and scenario planning need to be a top priority.
Superstorm Sandy was uniquely catastrophic. However, we saw similar supply chain outages associated with the 2004 Tsunami in Thailand, Hurricane Katrina in 2005, and Japan's earthquake and Tsunami in 2011. All these events caused major supply chain disruptions to some of the biggest brands in the world.
Why? I'll make the same argument I made eight years ago: Too many shippers and their logistics partners are not planning for these disruptions.
Shippers are not leveraging scenario planning as a best practice and remain focused on lean supply chains that focus on minimizing inventory and total number of suppliers. Alternatively, the resilient supply chain teaches redundancy of manufacturing lines, inventory, and capacity.
I don't agree that either in isolation is correct. Each business needs to map its supply chain and supply base and plan for that right balance of profitability and risk it wants to maintain. We can update our balanced equation of leaning out the supply chain to include risk mitigation.
How best-in-class shippers are navigating disruptions
During this global disruption, some shippers were able to react and adapt quickly to minimize impacts and continue serving customers. How? By driving risk management and supply chain resiliency through end-to-end global visibility and connectivity to their carriers, suppliers, and inventory. These advantages are enabled by a couple key capabilities:
Technology: Technology advancements and our collective supply chain knowledge has come a very long way since my blog post from 2012. The logistics industry has undergone a massive digital transformation that enables us to have smart, connected global supply chains. Advanced capabilities like artificial intelligence, machine learning, Internet of Things (IoT), and predictive analytics are driving more automation and enhanced decision-making capabilities. The integration of real-time data feeds—including weather, traffic, socio-economic disruptions, and other factors—optimize decision modeling, risk analysis, and other critical supply chain processes. As the supply chain industry moves forward, real-time visibility and the ability to consume, combine, and analyze data from growing number of integrations is essential to building a responsive, resilient, competitive, and profitable strategy.
Global Control Towers®: A Control Tower by design functions as a centralized command center for visibility and decision making. Typically, it leverages a unified platform that allows a shipper to manage all modes of transportation, in all regions of the world. Best-in-class Control Towers are powered by a single, global TMS that provides visibility to all inventory in the supply chain, whether it is sitting or in motion. For a global shipper, this capability is essential due to the complex multi-leg shipments they manage. Furthermore, a global, unified platform allows for collaboration across supply chain trading partners during a crisis.
Microsoft, a TMC, a division of C.H. Robinson customer, is a great example of a complex, global shipper that found success in navigating the pandemic disruptions by leveraging the above capabilities. Microsoft's supply chain is centralized through every Control Tower location within our global network, with our single TMS platform supporting shipments across more than 100 countries and all modes of transportation. Through our real-time visibility platform, Navisphere® Vision, they can see all their inventory in motion and at rest so priority shipments can be quickly identified and safety stock activated as needed.
The pandemic significantly impacted the number passenger flights across the globe, making air capacity and pricing especially challenging to forecast. With air being a key mode for electronics manufacturers, we leveraged our scale and information advantage to work proactively with air cargo carriers to determine their freight capacity, identify what shipments could be supported, and produce lane benchmark reports around pricing.
With a globally connected supply chain team and technology, lessons learned from the first logistics impacts in China were applied to other regions as the virus spread. As various restrictions and lockdowns were enacted across the globe, the Microsoft teams received real-time proactive alerts for predicted shipment delays, so the team could collaborate and mitigate the issue quicker.
Prepare for what's next
New Gartner research shows that only 21% of supply chain organizations believe they have a highly resilient network today*. If they weren't already, your company's leaders are now keenly aware of the importance of having an agile, responsive, and resilient supply chain. Increasing supply chain resilience should be a key priority as you recover and reexamine your strategies to mitigate disruptions going forward.
Now is the time to plan and advocate for resources needed to advance your digital transformation and make your supply chain more agile and prepared to handle the next challenge.