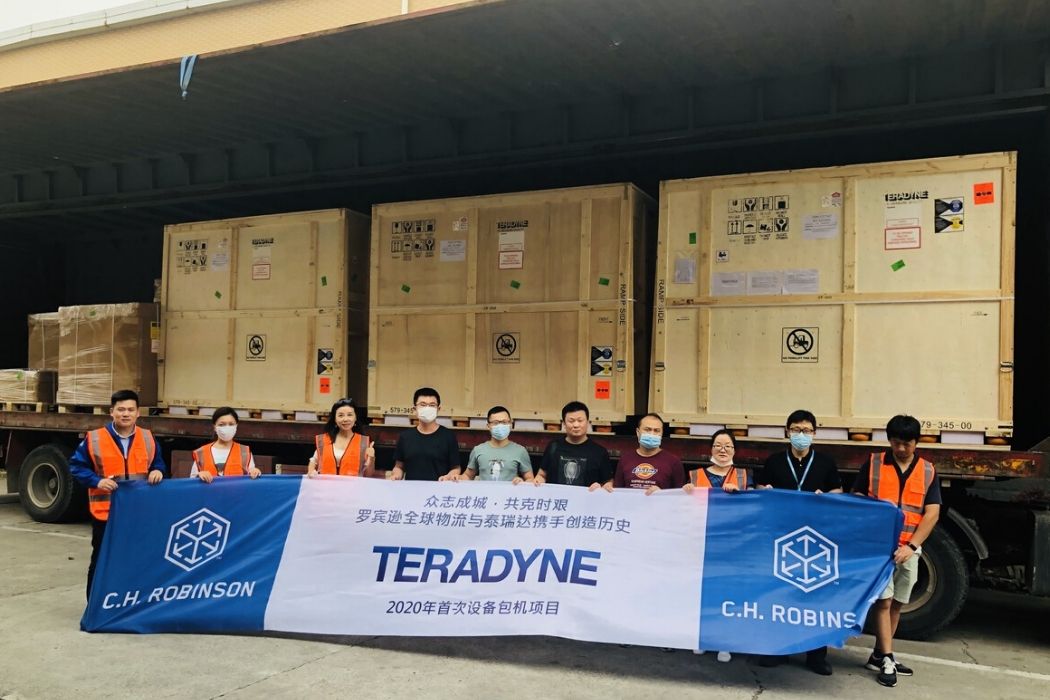 Teradyne has always had a strong approach to managing their supply chain. But more importantly, they understand the need to adapt to changing market conditions. Working with Teradyne for more than ten years, C.H. Robinson is proud to act as an extension of their team—identifying new and innovative ways to improve their supply chain and helping implement changes that have made a real impact on their business.
C.H. Robinson recently helped Teradyne accomplish a large move of automated test equipment. C.H. Robinson had previously helped Teradyne reduce their time to market and helped them keep costs competitive, and now we've built on that success with a solution for current market conditions.
Disruption to the supply chain
As a leading supplier of automation equipment for testing and industrial applications, Teradyne's products are used to test semiconductors, wireless products, data storage, and complex electronic systems for consumer, communications, industrial, and government customers.
With the onset of COVID-19, Teradyne's supply chain faced several challenges. The spread of the pandemic directly impacted international and inter-city logistics for Teradyne's inbound materials in Suzhou, China, and Penang, Malaysia. Some of the most common disruptions included frequent flight cancellations, rescheduling challenges, as well as traffic bans and driver shortages.
In order to meet demand for their automatic test equipment amidst the disruption, Teradyne needed help fulfilling a particularly challenging order for a top customer. The order required moving oversized equipment from Shanghai (PVG) to Taiwan (TPE) within a limited time window. Thanks to effective collaboration and special arrangements among Teradyne's inbound planning and manufacturing teams, vendors, and our team at C.H. Robinson, the order was delivered on time and as planned.
Anticipating what Teradyne needs
After working closely with Teradyne for the past several years, C.H. Robinson has developed a deep level of expertise with their business. We help ensure that while they follow established standard operating procedures, they also have a strategy that is dynamic and flexible when change is needed.
Despite disruptions to the testing equipment supply chain, Teradyne experienced a record number of shipments this year. Teradyne shipped 105 sets of equipment during the first quarter of 2020and in the second quarter alone they moved a total of 286 sets of equipment—107 of those shipped in the month of June.
Through careful collaboration, the team effectively coordinated a large-scale move of 23 oversized shipments via an air charter—a first for Teradyne.
 An air charter solution
Through daily communication with the team at Teradyne, C.H. Robinson established a timeline for the manufacturing, pickup, volume, and receiving of the 23-shipment order.
Our team at C.H. Robinson has worked hard to accurately analyze Teradyne's production plan and their customer's capacity to receive goods. Commercial air freight and sea shipments were unable to meet Teradyne's needs. We created an effective and timely solution to meet the quarter-end deliveries through a charter flight with a Sunday departure from Shanghai to Taipei. As part of the solution, we relied heavily on a comprehensive checklist to monitor the freight's status during each step of the journey.
From pickup to delivery, the 23-shipment order was monitored every step of the way:
Day 1: All shipments were picked up from Teradyne
Day 2-3: Engineers were onsite at the terminal warehouse to streamline the customs process and prepare for potential inspection
Day 4: A total of 23 over-height crates and 14 additional pallets were loaded onto the charter for a direct flight from Shanghai (PVG) to Taiwan (TPE) with our dedicated operational processes to avoid wet damage caused by rain
Normally, it is very difficult to negotiate and secure a Sunday flight for charters due to large volumes already moving on weekend flights. However, shipping on that day was the best solution to overcome any delays caused by an upcoming holiday, the Dragon Boat Festival. It also maximized the loading volume based on Teradyne Suzhou's production capacity. From a market perspective, using an air charter helped balance the demand and supply of space capacity for commercial flights market, which helped prevent a freight rate hike on this route.
Despite the short lead time, small transit window, and already tight air freight space due to the holiday and impact of COVID-19, we successfully secured the air charter for Teradyne thanks to our relationships with air freight carriers.
Even after the order arrived in Taiwan, we continued to support Teradyne with value-added services, including arranging customs clearance and negotiating a special loading zone with the airline carrier. These actions helped maintain the safety of the cargo and ensure the expedited delivery window was met.
Finding the right balance for today's market
Even with the additional challenges of today's market, there is no room for Teradyne to slow down. Accordingly, our support of their logistics strategy has helped Teradyne meet their shipping needs for surge volumes despite the difficulties caused by COVID-19.
Through communication, collaboration, and commitment, we at C.H. Robinson will continue to provide the deep expertise Teradyne expects and the global suite of services their supply chain requires. Without support and an open-minded approach from Teradyne's management, manufacturing, and logistics teams, this initiative wouldn't have been nearly as successful.
C.H. Robinson has developed a deep understanding of Teradyne's business. Through that understanding, we can better manage when shipments move, how they are routed, how to allocate costs, and when a change is needed.
And as this example with Teradyne shows, there can be times when a change in mode is warranted. It also clearly shows why it's important for global shippers to work with a provider that can reliably meet all logistics services and technology needs today and in the future. We value our customers and always try to provide them with the best service to achieve greater customer satisfaction.
If your company is being affected by changing market conditions, connect with our global experts today for help navigating your business through these uncertain times.