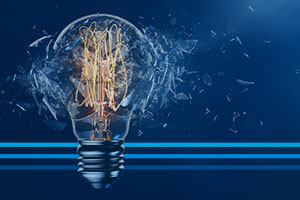 Earlier this year we talked about tips for hosting an innovation challenge. Today, we will dig into why investing in innovation matters. C.H. Robinson exists to make customers' supply chains better, stronger, and faster because that's what it takes to compete in today's market. Driving a culture of innovation is essential to our growth. In fact, I believe that the next 50 great ideas for moving global supply chains forward are already here, living within our people.

Our global forwarding division recently hosted an innovation challenge in our innovation center. The idea of innovation is not new to C.H. Robinson. Completing this center in 2016 provides us with a physical manifestation of our commitment. For the challenge, we combined this space with our ongoing investments in technology to connect all our global regions and time zones so everyone had the opportunity to participate.
We invited our logistics experts in all regions of the world to present their ideas for improving global supply chains. They stepped up, and we listened. More than 400 people contributed ideas, with more than 10,000 votes cast. Then, each participating region pitched their two top ideas to our company leaders. The concepts that were ultimately selected now have a dedicated task force for implementation.
Benefits of Driving Innovation in Global Supply Chains
This investment in space, money, and time is worth it. Our global organization sees three key benefits to continually driving innovation in global supply chains.
1. Crowdsourcing
Crowdsourcing brings a diverse set of ideas and perspectives together. We bring in people from around the world for a common goal—innovating to solve problems and create new efficiencies. We talk about processes that have made positive changes in businesses around the world, and challenges that have led to new discoveries in supply chain management. Talking about the possibilities energizes us and sparks more ideas for improvements. The value of crowdsourcing proves valuable in generating our next best ideas for the market right here, within our walls.
2. Unlocking new value
Not every idea has to be groundbreaking. Incremental changes to services—and even incremental approaches to new markets—are also considered. Sometimes, the smallest changes can unlock the greatest value and unleash the potential in other areas, causing a ripple effect of innovative solutions that crosses our global organization.
3. Living a culture of innovation
Senior leadership at C.H. Robinson fully supports the investment in space, technology, and time for innovation. We encourage this commitment to innovation because continuous improvement is essential. When we direct our passion to making processes and supply chains work more efficiently for our customers, our business becomes stronger and we grow.
You need a lot of ideas to come up with the best of the best. Why not harness the commitment and experience of the very people who do the job, day in and day out? If you want to go fast, you go alone, but if you want to go far, you go together. At C.H. Robinson, we believe in the power of individuals to do great things, and the power of teams to bring advancements to the whole organization. We see the return on investment as people are engaged in projects in which they feel a sense of ownership and pride.
Final Thoughts
Innovation matters to our people, and it matters to customers. We invest in innovation because we care about the future of your business and the success of your global supply chain. To learn how we can drive change in your organization, connect with one of our experts today.