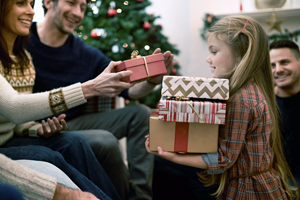 Sometimes it doesn't take much at all to brighten someone's day just a little, especially if that person is battling a serious injury or illness. I've seen so many families struggle to find their holiday cheer when they or a loved one is in the hospital. Which is why the Transportation Club of Minneapolis & St. Paul is proud to support the University of MN Masonic Children's Hospital.

Of course there are hundreds if not thousands of organizations across the country that are helping the charities that are close to their hearts, our organization is a bit unique in that it's made up of shippers and carriers of all sizes.
For over 50 years, the Transportation Club has supported the hospital in a variety of meaningful ways. From monthly themed parties for families to room visits for the children too sick to attend, our volunteers have provided blankets, treats, and activities to keep spirits lifted.
We've also raised funds through golf events and luncheons so that every room in the hospital has a computer for the kids and their families to use. After all, parents don't want to leave their children to handle the unending day-to-day tasks—even if it's simply updating family and friends about their care.
The Transportation Club's commitment to the Masonic Hospital has provided kids and their families a much needed break from the reality that they live with in the hospital—a reality that can last months or years at a time.
Working together to do good
The Transportation Club of Minneapolis & St. Paul just celebrated 105 years as an organization. Our primary purpose is to provide a forum for exchanging ideas and information concerning transportation in all its aspects. We also seek to foster fellowship within the transportation community.
As I said before, we have both shippers and carriers involved in our organization—and that includes some of the fiercest competitors. The beauty of our charitable support at the University of MN Masonic Children's Hospital is that these rivals come together and volunteer side by side for the kids who truly need our help.
Our plan this Christmas
Over the years, we've changed our approach from a large holiday party to something a bit different. We've found that one of the things parents worry about when their kids are stuck in the hospital is not being able to go buy presents for them at Christmas time. So instead of inviting Santa for a visit and hosting games (similar to what we now do at Halloween) we host a toy shopping and wrapping workshop for parents.
On December 22 and 23, parents are encouraged to come down, pick out the perfect donated toy for their child (or children as we want to make sure siblings of sick kids are included too). We wrap them on the spot and the parents can cross one more worry off their mental plate. Last year, our 35 volunteers made sure that hundreds of kids had gifts to open on Christmas morning.
It's so much more than one volunteer
It's the efforts of many that make our goal of bringing a few moments of happiness to kids and families when they need it most possible. Every action alone may seem small, yet the impact we have by working together and volunteering side by side throughout the year is truly something special that the families will remember for a very long time.
You'd never expect one single person to handle every detail of a global supply chain. And we can't expect just one volunteer to help as many kids. It's when we put our differences aside and work toward a common goal that we manage to do remarkable things.
Even if you don't get a chance to volunteer this season, know that what you do matters. Whether you haul toys or toothpaste, the products you deliver to stores across the country could very well end up supporting those who need it most.
Learn more about our Transportation Club and the Masonic Children's Hospital online.