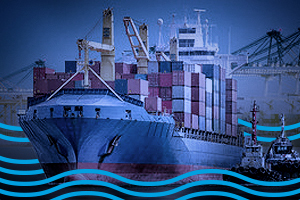 There's no doubt that globalization has resulted in more complex and expansive supply chains. But at the same time, today's customers also want to get their orders faster, so businesses must be more responsive. Staying ahead, then, often seems to mean balancing those two dueling demands. And among different global shipping options like air, ocean full container load (FCL), and ocean less than container load (LCL), working out the logistics can feel like a tall order.
As more and more shippers work with overseas freight, they need to find solutions that are both efficient and flexible. Fortunately, I've found that many suppliers I've spoken with are choosing the advantages of LCL shipping.
If you're unfamiliar, LCL combines your sea cargo that doesn't fill an entire container load with other cargo, so you can ship smaller amounts more frequently. Through consolidation, you are better equipped to meet worldwide demand as soon as it happens; that means improved delivery times, happier customers, and the agility to do better business faster.
I often hear from suppliers that they're curious about LCL consolidation but do not know how to enter the market. Fortunately, savvy third party logistics (3PL) providers, like C.H. Robinson, offer tools that make LCL shipping simple. Because they work with multiple customers, 3PLs have the experience, volume, and data to easily optimize your overseas freight.
Throughout my work, I've seen the most productive 3PLs offer all of the following:
Cost-saving expertise in LCL markets: Between tariffs, discounts, weights, surcharges, classifications, volumes, costs, and multiple carriers, LCL shipping can be complicated. A good provider will understand the nuances of how these factors intersect, preventing delays and reducing fees.
Consistent LCL access: Even when your product volume varies, the best providers have consistent supply from the many customers they work with, so LCL consolidation always remains an option. That means a more predictable (and more nimble) supply chain.
Sea freight optimization through analytics: Progressive 3PLs leverage vast networks of data and insights to determine which particular LCL solutions will work best for your personal goals. They will offer visibility into how your entire supply chain operates, leading to more proactive and strategic decision making.
The bottom line, of course, is lower costs and better service. When LCL shipping works well, customers can expect more timely delivery of their orders, no matter where in the world they are coming from. And businesses save money by turning a fragmented system to their competitive advantage.
Are you ready to learn more about how LCL could integrate into your own supply chain? Whether you are shipping out of Shanghai, Jakarta, Melbourne, or anywhere else, our ocean shipping experts are ready to start working on customized solutions for you today.