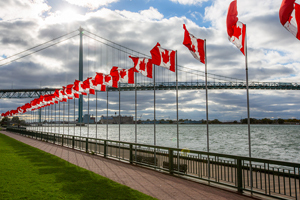 On June 13, 2019, The Canadian Ministry of Transportation (Transport Canada) announced a formal plan to implement electronic logging devices (ELDs) in Canada. I was able to interview Marco Romano, vice president of North American Surface Transportation at C.H. Robinson, regarding some of the details.
Background and timeline of ELDs in Canada
Jason: We are very familiar with ELDs and the potential market impact here in the United States as most drivers were mandated to have them in December 2017. First off, can you describe the current hours of service (HOS) rules in Canada?
Marco: The Canadian HOS rule limits driving to 13 hours a day within a 16-hour workday. Drivers must then be off duty for eight consecutive hours. This represents two additional driving hours compared to drivers in the United States.
While there is a bit more flexibility for carriers with the Canadian HOS rule, all participants in cross-border trucking should understand that when a driver is in the United States, they are subject to the hours of service for the United States. This holds true even when Canada is the country of origin. Moreover, if a truck leaves Canada with hours that are nearing U.S. regulations, the driver must shut down as they cross the border.
Jason: And when will ELDs be mandated in Canada?
Marco: By June 2021, all truck drivers currently required to maintain a logbook will have to use third-party-certified ELDs instead. Industry associations such as the Canadian Trucking Alliance (CTA) and Transport Canada, the country's transportation regulatory agency, which is similar to the Federal Motor Carrier Safety Administration in the United States, greeted the announcement with enthusiasm. The HOS rules themselves will not change; they'll simply have to record their hours using an ELD.
Differences and disruptions from ELD mandate in Canada
Jason: What are some major differences between the U.S. implementation and what Canada will do?
Marco: The main difference is that Canadian ELD regulation requires third-party device certification—something the United States did not pursue—and a detail the Canadian trucking industry lobbied to have included. In the United States, devices are self-certified, which has led to concern about ELDs that can be modified or tampered with. It's not yet clear who will provide third-party certification.
Unlike in the United States, existing automatic on-board recording devices will not be grandfathered. Transport Canada estimates that the ELD requirement will reduce the risk of fatigue-related collisions by 10%. The devices also reduce the administrative burdens of maintaining and verifying paper logbooks. Additionally, a press release from Transport Canada notes that these devices are aligned with U.S. road safety regulations, which will foster trade, economic growth, and border movement.
Jason: Do logistics professionals expect any significant disruptions for changes as a result of mandated ELDs?
Marco: There may not be as much resistance to the proposed ELD rule in Canada as there was in the United States since Canada relies heavily on exports to the United States—its largest market. Several Canada cross-border carriers are already ELD compliant in the United States and are familiar with the process of implementing ELDs.
The greatest influence that may lead to disruptions is the HOS differences. Because HOS regulations are different between Canada and the United States, delivery times may be impacted depending on which side of the border a driver is on. Not to mention the possible changes in U.S. sleeper berth and break guidelines anticipated in early 2020. It will certainly be a financial impact to U.S. carriers that must comply with ELD laws in both Canada and the United States. Canada carriers will also need to invest in the technology and it's uncertain that there will be an additional cost of third-party regulators.
Jason: Will there be any specific impact on cross-border freight that is different from shipments moving within Canada?
Marco: A lot of the proposed rule is expected to be similar to the United States' ELD mandate. This is positive news for Canada carriers whose business involves cross-border transit and already need to comply with the mandate for that reason.
Exclusively intra-Canada carriers will have to adapt. All Canada cross-border carriers already run ELDs and have been pushing for a harmonized rule in Canada. ELDs and the U.S. rule regarding the 11-hour time constraint are creating some concerns for Canada cross-border carriers as they experience increasingly irregular traffic delays in U.S. cities. Intra-Canada carriers will not need to adjust their HOS process.
Final thoughts on ELDs in Canada
While there is still some time before the expected ELD rule goes into effect in Canada, the ultimate impact on our industry is still unknown.
While my interview with Marco Romano shed some light on the upcoming changes for carriers in Canada, you may still have lingering questions. Be sure to check out the Canadian Trucking Alliance and Transport Canada websites for more information.
And as always, talk with your logistics provider—especially if you have specific concerns about how the mandate will affect your business. Still looking for a provider to help with these and other shipping challenges? Connect with a C.H. Robinson expert today.