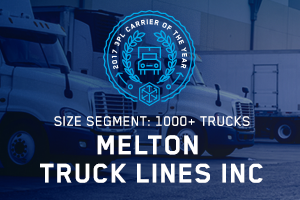 In our final installment of our 2018 Carrier of the Year posts, I'd like to extend my congratulations to Melton Truck Lines, Inc. They have received the coveted title of C.H. Robinson Carrier of the Year in our 1,000+ tractor size segment.
I can personally attest just how hard everyone at Melton works. They truly deserve the honor of being named one of our Carriers of the Year for 2018.
More about Melton Truck Lines
Since 1954, Melton has truly been a leader in the flatbed industry. Over the years, they've grown organically from their base in Tulsa, OK, to serve nearly all areas of North America. This includes their significant presence in both Mexico and Canada. Cross-border shipping has quickly become an area where they excel.
Their fleet consists of flatbed and step deck trailers. One of the great things about Melton is that every one of their drivers is ready to handle over-dimensional loads. And Melton has always believed in a strong commitment to safety. They adhere to a strict business model and driver employment standards to improve the safety of their drivers, other people on the road, and the products they transport.
Top three traits that describe Melton
I've had the honor of working with Melton for just over five years now and I've enjoyed every minute of it. Since I started working with them, my goal has been to help them find the most strategic opportunities possible. Together we've had a lot of success optimizing several challenging lanes for their fleet.
Trying to describe Melton could take me days. If I had to sum them up into three distinct traits that set them apart from other carriers, here's what I would say:
Adaptable yet dependable
Melton has always responded well to any changes. They always seem able to adjust to last minute load changes, short timelines, and even unexpected weather disruptions. Their flexibility certainly doesn't diminish their dependability. Because Melton believes in closely monitoring each load they haul, they currently have a 98% on time pick up and delivery record.
Professional and respectful
One thing that truly separates Melton from other carriers is that despite their size, they still manage to create a family atmosphere for all their employees. In today's world where there's a true driver shortage, knowing that I get to work with a great company that cares about and respects their drivers is a big deal.
Service above all else
At C.H. Robinson, we often find situations requiring extra work or effort to solve a challenging problem for customers. It's who we are. And Melton is the same way. Because they care about a shipper's freight just as much as I do, I know that they will place service at the top of their priority list.
A final congratulations!
In addition to saying congratulations, I also want to thank the individuals at Melton who make my working day so pleasant. You all are so friendly, open, and honest that it always puts me in a good mood.
Congratulations again on being named a C.H. Robinson Carrier of the Year for 2018. You deserve it!