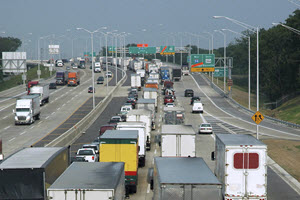 Preparing for ELDs: Changes Shippers Can Make Today | Transportfolio
The holidays aren't the only thing looming on the horizon. For many in our industry, electronic logging devices (ELDs) are a hot topic because there is not consensus on the magnitude of impact implementation will have on capacity. It's important to remember that the hours of service (HOS) each driver has in a day or week is not changing. It is important to understand that the mandate is not changing the hours of service for a driver, it is changing the method of recording from a paper book to an electronic log.

Of course, it's easy to project assumptions that the ELD mandate will force drivers and carriers to be more diligent in adhering to hours of service. Whether or not this is true, this is a good opportunity to examine your processes to determine if there are strategies you can employ that will help position your freight to be as attractive as possible in an environment where carriers are seeking freight that minimizes driver down time.
Adjust your plan for freight traveling 400-600 miles
Adjust your plan for freight traveling 400-600 miles | Transportfolio
It's time to truly think about transit time. Review freight that currently has a one-day transit time and covers 400–600 miles—you may need to plan this freight differently. Consider planning these shipments for one day plus to minimize disruptions as much as possible.
For shipments with one-day transit, also look at the shipping and receiving hours—is there flexibility? If the windows are very strict, the added time provided in transit will help carriers want to accept your freight. And if there is flexibility in the delivery windows, you might not need to add as much time to transit.
Add lead time whenever you can
Add lead time whenever you can | Transportfolio
Short lead times may contribute to higher carrier rejection rates. Ideally, you can provide carriers with at least 48 hours lead time on every shipment. Longer lead times not only help carriers meet their network commitments and business goals, it also gives you a better chance of securing the capacity you need before someone else books it.

Eliminate as much dwell time as possible
Eliminate as much dwell time as possible | Transportfolio
Iowa State University research uncovered a direct correlation between dwell time and the end price paid for a shipment. Locations with longer dwell times have higher rejection rates, contributing to deeper route guide searching and thus higher prices.
As time becomes more important for carriers with the ELD mandate, reducing dwell time is a great way to offer time back to carriers and truly differentiate your freight.
Ultimately, make choices that are right for your company
Ultimately, make choices that are right for your company | Transportfolio
There may be extremely good business reasons that limit your ability to influence these aspects of your business. If that is the case for your business, then you may need to accept higher rates and adjust your transportation budget accordingly to deal with the changing market. But even if you aren't able to make wholesale process changes, small changes or added flexibility on even portions of your freight could make a difference in the long term.
As we approach the December 18 ELD implementation date, the situation remains fluid and C.H. Robinson continues to monitor very closely for updates or changes to the mandate. Keep checking Transportfolio for the latest information on this issue.
Need to have a tough conversation within your organization about budget? Check out an issue of CSCMP Explores that gives you key points to bring up and make your case. Download your free copy.