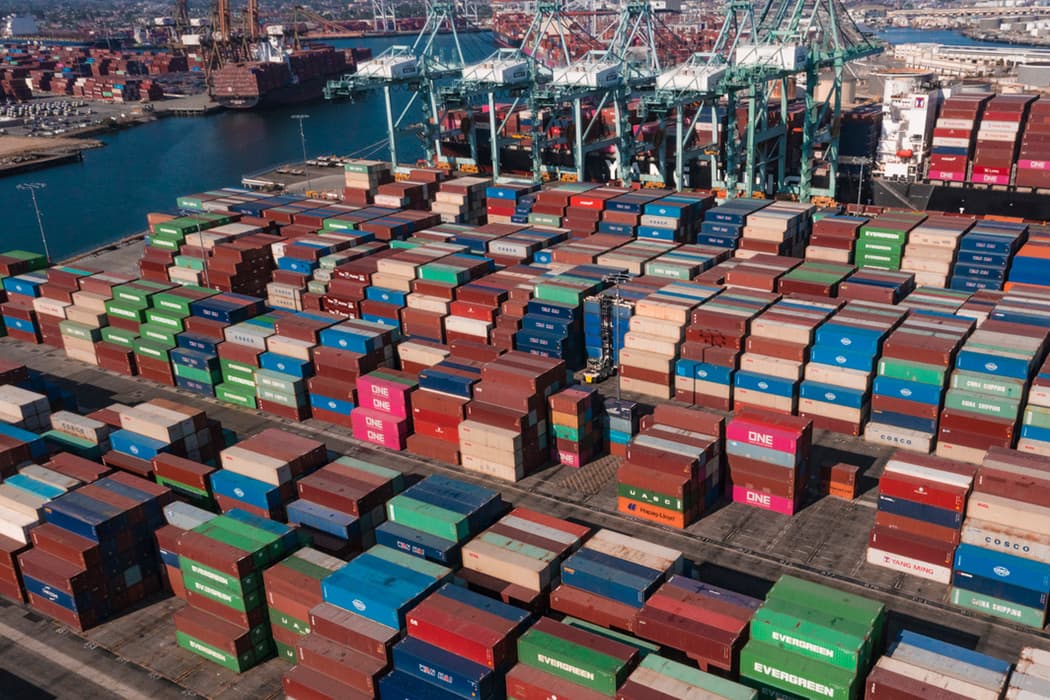 High demand and tight capacity have dominated the headlines over the past 2+ years. However, with demand lessening compared to previous months and global capacity available on the water and in the air, the tune is changing.
With this change, importers may expect port congestion to follow suit and lighten, but the stress of last year's peak season is still affecting ports today.
What's driving port congestion?
Right now, many retailers have a backlog of inventory in their warehouses, and frankly do not have room for more. While that, in part, explains why retail peak season will look very different this year, it does not explain why relief is not being felt at the ports. Below are a few reasons why shippers continue to experience port congestion despite decreased demand for consumer goods.
Freight shifting to U.S. East Coast ports
The shift from Los Angeles and Long Beach, in part due to ILWU (International Longshore Warehouse Union) negotiations and also companies looking to further diversify their freight import strategies and mitigate risk, has led to large delays on the U.S. east coast. This shift of freight is also on top of already strong import levels on the trans-Atlantic.
Earlier this summer, the Port of Savannah set a new record with over 40 ships waiting to berth. Keep in mind, east coast ports are not set up to handle the amount of freight that LA and Long Beach are equipped for. To put it into perspective, we typically see the ports of LA and Long Beach unload 20-35 vessels a day versus ports like New York or Savannah which unload roughly four vessels a day.
Conversions from ocean to air have slowed
Speed to market was a necessity for many companies over the past year, retailers had shelves to fill and manufacturers needed parts for production. During this time, many shippers converted their ocean shipments to air. According to a recent C.H. Robinson survey, over a quarter of shippers (28%) said that one of the top strategies for managing the disruption of 2021 was transporting freight by air that had previously been transported by ocean. Additionally, 16% said they transported freight by air for the first time or in a way they had not before.
Now with available ocean capacity and many shippers looking to cut costs, we're seeing fewer ocean-to-air conversions. Additionally, with little space to store goods in warehouses, importers may even be thankful for the extra lead time on the water so they have more time to work through their current inventory. What this translates into is that some freight that was shifting to air terminals is now coming back to the ports.
Shortage of chassis and rail cars
Finally, chassis shortages are continuing and the average port dwell times for rail cargo are increasing. To name a few, Oakland was at 30 days, Los Angeles and Long Beach were 16 days, and Charleston was seven days earlier this summer. This slows down inland transportation which leaves more freight at the ports.
Where do we go from here?
Even if we experience a late or mild peak of imports later this year or no peak at all, port challenges won't be going away anytime soon. While each supply chain is unique and requires an equally unique strategy, there are some things you can consider to help you mitigate today's disruption, including:
Taking advantage of deconsolidation services at the ports. This service helps make sure your priority freight is getting moved first.
Evaluating and considering more inland point intermodal (IPI) and reverse inland point intermodal (RIPI) option to continue to diversify options and lower delays at the port.
Continuing to diversify your port and mode strategy. For example, if your warehouse is full but you still need to move product, consider utilizing less-than-container-load (LCL) ocean shipping. This ensures you still have inventory coming in, but at the quantities that work for you. As a bonus, it's also a great cost savings strategy.
And finally, use technology to your advantage. The right technology tools can give you the visibility and predictability you need to adjust. With the ongoing port congestion and delays, C.H. Robinson enhanced our vessel routing and tracking features within our transportation management system, Navisphere®, to increase the efficiency and accuracy of port ETAs and automatically send updates if changes were discovered.
As our normal disruptions continue to shift, don't wait to start the conversations about what new strategies would work for your global supply chain. Connect with one of our logistics experts here.