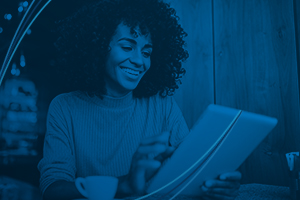 Ecommerce is on the rise in South America. Double-digit growth is expected for 2019 with sales of $71.34 billion (USD), tying it with the Middle East and Africa as the world's second-fastest-growing retail ecommerce market.
That's great news for shippers looking to expand their online retail presence in South America.
A diamond in the rough 
Online retailers in South America have been struggling for years to overcome several obstacles to success, including extensive customs delays, poor transportation infrastructure, and the lack of end-to-end supply chain visibility. Progress has been made on all three of these "challenges," but more work is necessary to ensure the region's continued double-digit growth.
Within each challenge lies opportunity
While these obstacles may keep a few shippers from expanding into South America, others are viewing the area as a "diamond in the rough" and working diligently to reap the rewards of this truly untapped region.
Having the right information is the first step to wading through the muck and mire of this complicated ecommerce marketplace:
South America customs vary by country
Red tape and bureaucracy pose the biggest obstacles for importing products into South American countries. In addition to customs taxes, tariffs, and fees, it can take 30+ days for some goods to be cleared through customs, especially in Brazil and Argentina. As a result, inventory builds up, costs rise, and customers wait longer for their products to arrive. In comparison, however, Chilean customs are very similar to the U.S. and allow products to flow through relatively quickly.
As you can tell, customs procedures can differ significantly, making it difficult for shippers to ensure compliance with each region's unique customs. For a more seamless process, it's essential shippers work with a customs broker or third party logistics provider (3PL) with local offices in the area. They'll know the customs standards and understand the paperwork necessary to ensure products are approved for import.
Free trade agreements
The United States-Chile trade agreement allows all U.S. exports of consumer and industrial products to enter Chile duty free. While still in the works, the United States-Brazil free trade agreement can help facilitate trade and boost investment between the two countries, especially in infrastructure. The United States-Colombia Trade Promotion Agreement eliminates tariffs on 80% of U.S. consumer and industrial imports into Colombia.
South America infrastructure at port and inland
South America is hobbled by its inadequate infrastructure, and it's probably not going to change anytime soon. Roads remain the primary means of transportation, but 60% are unpaved, hampering the speed of delivery by truck to inland locations. Improvements are slowly occurring, thanks to increased government funding (but corruption hampers many efforts). It's worth mentioning that China, the largest trading partner of Brazil, Chile, and Peru, invests heavily in the region, providing more than $140 billion (USD) in loans for infrastructure improvements in the past decade, according to The Business Year.
While surface transportation remains stagnant, ocean freight shows promise. According to icontainers.com, routes going to and from South America represent 15% of the total number of trade services.
The largest container port in South America is in the city of Santos in Brazil's Sao Paulo state. Its location provides easy access to the hinterlands via the Serra do Mar mountain range. More than 40% of Brazil's containers are handled by the Port of Santos as well as nearly 33% of its trade, and 60 % of Brazil's GDP, according to JOC.com.
In 2018, Brazil's busiest container cargo port handled 4.3 million TEUs, compared with 3.85 million TEUs in 2017.
For Argentina, Zarate serves as the critical port for roll-on/roll-off (ro-ro) and breakbulk cargo, while Buenos Aires and Rosario serve as the top container ports. Only two countries in South America are landlocked, Paraguay and Bolivia.
Shippers and ocean carriers using the Port of Santos have been complaining about congestion and labor disputes at the port, and about politicization and time-consuming bureaucracy. That's why it's essential that shippers must have the latest information on traffic through these South American ports. Global freight forwarding companies in the area will have the newest information available to help you choose the right port of entry for your freight.
End-to-end supply chain visibility
Most online retailers and carriers understand that the sale is not complete until the product is delivered to the consumer. If merchandise is damaged during transport or arrives much later than promised, it reflects poorly on both parties and undermines consumer trust in ecommerce purchases.
Lack of adequate infrastructure has forced many online retailers to put logistics on the back burner, focusing on the user experience through purchase. That's why many products take weeks to arrive at the customer's door, setting a bad precedent that must change.
The South America trucking industry is highly fragmented, with providers ranging from owner-operators (about one-third of the industry) to sizable fleet operators and experienced freight forwarders who may not own any trucks at all, according to Tire Business newspaper.
Final mile, LTL services paramount in South America
Once your product reaches port in South America and makes it through customs, how it gets delivered to the customer's door can add extensive costs to your supply chain. Less than truckload (LTL) and final mile services are paramount to successfully operating in the region. Especially those carriers that can provide GPS freight tracking capabilities, such as C.H. Robinson's Navisphere® technology.
Final thoughts
Yes, there are obstacles to operating a supply chain in South American countries. Knowing the ins and outs of each country's unique customs procedure, understanding which South American ports are best for your freight, and being able to track your shipments end-to-end will ensure your success in the region. Shippers who realize the potential of this "diamond in the rough" marketplace should work with a freight forwarder who will be extra focused and diligent in ensuring their freight moves quickly from customs fiscal warehouses to the final destinations.
Enlist the aid of a global freight forwarding provider, like C.H. Robinson, who offers a global suite of services and has offices in the region that can help navigate any disruption in your supply chain.
Start the discussion with an expert in South America to accelerate your ecommerce trade.