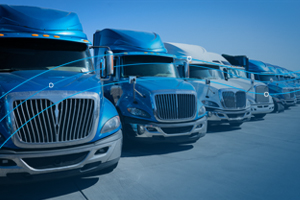 For many in the supply chain industry, a cyclical pattern of tension and slack is a familiar occurrence. While freight volumes and the supply of trucks and drivers constantly strive for equal balance, they often fall short. Here are the five key freight trends worth watching in late 2019.
1. Freight volumes gain strength
Recent reports by Cass Freight Index and American Trucking Associations (ATA) show mixed perspectives with year over year growth struggling against the backdrop of a record 2018. Total volume is very close to 2018 and well above earlier years. In short, it is a good freight year paired with an exceptional capacity year. Watch key industrial indices for an outlook on freight volume growth or decline. Currently, analysts suggest a flat to possibly 0.5% growth in freight volume in 2019.
2.Truckload fleets continue growth
While it's challenging to measure the additional capacity available today, reports indicate that both trucking jobs and truck sales (for replacement and incremental growth) have increased. ACT Research suggests the industry may be back to 2007 peak levels in truckload assets by the end of the year. New truck and trailer orders have been strong and are entering the for-hire market, with apparently less activity now in private fleets. The ATA recently reported about a 3% increase in capacity for large truckload and LTL carriers as orders are delivered to carriers.
The key to new truck deliveries depends on new talent entering the trucking industry pipeline. The Bureau of Labor Statistics shows 38,500 more trucking jobs in the past three years, not including owner/operators or the smallest carriers (most in 2018 and H1-2019 with sporadic growth). And according to the Federal Motor Carrier Safety Administration (FMCSA) registration data, the smallest carriers grew the most with larger carriers making strides in Q2.
3. Tariffs may impact truckload capacity
Keep an eye on the economy in Q3 and Q4 to see whether demand for truckload capacity will increase or decrease. Analysts continue to cite trade and global economics directly affecting freight markets. Economic uncertainty influences investment and freight is typically a derivative of that investment. Continue to watch the unfolding trade situations with China and the United States-Mexico-Canada Agreement (USMCA). The impact of these tariff changes is increasingly discussed as an element that is shaping supply chains and influencing freight flows.
4. Split sleeper berth provision shows promise
The FMCSA recently completed its investigation on the effectiveness of the split sleeper berth provision (which specifies drivers can only take their off-duty hours in a consecutive 10-hour period). The results indicated there were benefits to both driver health, safety, and business efficiency, providing more flexible options. While this is not definite, it's good to watch as it could ultimately lead to a better quality of life for drivers, greater efficiency, and more capacity in the market.
5. Market changes prompt new freight shipping strategies
Today's supply chain strategies of being closer to the consumer and providing quick responses have continued influencing the trucking industry. Since 2000, the average length of haul has declined around 37%. Carriers are bumping docks more often per week, experiencing extra dwell events, and logging fewer miles per week. Despite paying drivers more per mile, carriers struggle to increase driver take-home pay. They continue to enrichen compensation packages with a variety of bonuses and fringe benefits to entice the working public into truck driving. In this stage of the market cycle, shippers must continue to differentiate their freight through short dwell times and freight award strategies to ensure the best positioning for the next market cycle.
Closing thoughts on the freight brokerage market
As mentioned previously, the truckload market fluctuates through cycles of tension, balanced and oversupplied. The freight market for the remainder of 2019 depends on demand growth rates and supply strategies by the carrier communities.
At C.H. Robinson, we believe a consistent approach to supply chain excellence (through carrier management, internal collaboration, supply chain technology, and a balance of price and service) is a positive way to prepare for market changes. We strive to understand your specific business needs, and our people can help deconstruct your freight and introduce you to new opportunities to benefit from supply chain industry market cycles.
Connect with one of our supply chain experts today to learn more about handling your shipments in today's market—even at a moment's notice.