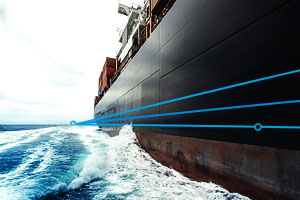 5 Things to Know Before Negotiating Ocean Shipping Contracts This Year | Transportfolio
The 2018-19 contract season for ocean shipping is here, and it's time to think about the best way to approach negotiations. Of course, you want to control costs, consider options, and mitigate risks, but it will also be important to keep these five factors in mind as you talk to ocean service providers about the year ahead.

Remember the ghost of Hanjin past
While some carriers may still be targets for acquisition or consolidation in years to come, I don't think any are likely to go bankrupt this year. Still, if you had ocean freight in 2016, the memory of the bankruptcy of the Hanjin shipping line may linger in your mind.
The bankruptcy certainly put some shippers in a difficult spot. After Hanjin filed for bankruptcy protection and its assets were frozen, giant container ships were stranded; ships from China to the U.S. were refused permission to offload or take aboard containers because there were no guarantees that the operators would be paid.
In light of what happened, some companies still look at carriers' financials and try to avoid putting cargo on carriers that might be at risk. If that is your approach, you should know that you can't always avoid a carrier in the environment of the mega-alliances. The fact remains that the cargo can still move with the carrier you are trying to avoid under a different bill of lading.
Of course, you should keep carrier financials in mind as you negotiate. But as I see it, the real lesson of the Hanjin bankruptcy is to be wary of choosing a carrier solely because they offer a low price. Price is only one component of the decision-making process—not the only factor.
Consider your options from the reshuffled alliances and the independents
Last year, we predicted correctly that the TSA would dissolve. As was the case last year, there remain serious questions about the viability of the carrier conferences.
What is important to this discussion is that you look beyond each alliance to diversify your options. Within THE Alliance, the Japanese carriers have consolidated. Within the OCEAN Alliance, APL and CMA, while operating under different brands, are owned by the same parent company. COSCO has acquired OOCL, and they, too, are in the same alliance. In addition, there are a handful of carriers that are independent and not officially part of any alliances.
While these may be viable options for your supply chain, be sure you truly understand how each operates and who they partner with in the slot charter scopes before you choose.
Understand how peak seasons and carrier profitability work
Bunker prices—by far, the largest operational parameter for ocean carriers—have crept back up in the past year, as we thought they would. As the bunker cost increases, so does the pressure on rates. Overall, price increases compare to May 1, 2017; while the amounts vary, the trend seems similar to last year.
Carriers continue to argue that their rates don't adequately compensate them for the investments they have made in vessels and services. But while some say the injection of capacity is good for customers and budgets, equipment alone isn't the answer. History shows that carriers leverage peak shipping periods as much as they can and push the rates as high as they can to make up for their losses. It's always prudent to ensure you are working with a service provider that can help insulate you as much as possible from these volatile periods.
Ask carriers how they are improving efficiency at U.S. ports
Many shippers focus their negotiation strategies on rates, space, and equipment at origin—all very important factors. But don't forget to ask carriers what they're doing to keep things efficient after the vessel gets to U.S. ports.
Why does this matter? As carrier alliances change, so do their terminal interests and subsequently, the rail interests for inland cargo. Unless both are seamlessly and efficiently managed, there can be monumental delays. Year over year, we have seen increasing issues and inefficiencies at the port, with incremental volume increases or small volatility. A select few ocean carriers want to capitalize on market inconsistencies by charging demurrage above and beyond what the rail lines charge across the U.S. interior.
Practices like these are (thankfully) not widespread, but the behavior is troubling. As you negotiate with carriers, ask what they are doing to work toward a collective solution and improve efficiency. Ensure you discuss the fine print in the contracts.
Make technology work for your supply chain
As I discussed at TPM this year, technology is here to stay. Instead of trying to avoid it, we need to embrace it. But let's be smart about it and not get hung up on the latest buzzwords like crypto-currencies and block chain.
Of course, digitization and ecommerce are real, but as I often remind carriers, you can't successfully move into the future until you master the fundamentals. Let's try to get our bills of lading and rates right the first time before we get too far ahead of ourselves. First things first.
Final Thoughts
Keep these 5 factors top of mind as you develop an overall strategy for negotiating with ocean providers this year. Your budget and sanity will thank you for it. And as you navigate this process, our global supply chain experts are ready to help.