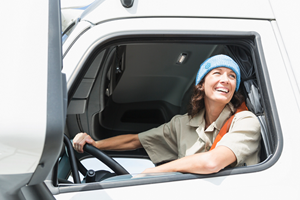 No one said being a truck driver was an easy gig. But they might not have told you about all the health challenges you'd face either. Did you know that the FMCSA estimates the average life span of a truck driver at only 61 years old? That's drastically lower than the national average. And honestly, it's unacceptable. The lifestyle of a truck driver certainly can make healthy choices more difficult, but they're far from impossible.
The idea of holistic wellness as a truck driver isn't just about eating like a rabbit and running on a treadmill until you're beyond bored. Instead, it encompasses four areas of your life that all influence your general well-being. Each is important in its own way.
4 areas of life that truck drivers can improve
1. The food you eat
If you've been driving for any length of time, you already know that having easy access to good, nutritious food on the road is a challenge. Truck stops and fast food places are filled with the worst kind of foods—empty carbs and sugar.
I recommend eating food as they exist in nature as much as possible. For truck drivers, this means choosing lots of meat, vegetables, and water. I even suggest truck drivers stay away from fruit because there's too much sugar. Of course, healthier options are not only harder to find on the road, but also typically require refrigeration—something you likely don't have a lot of room for.
One way around these issues is to partake in a little meal planning and prepping. When I'm at home, I personally like to can my own meat and ferment my own vegetables. It's fast, easy, and I know that I'm getting high quality ingredients.
2. Your sleep schedule (or lack thereof)
Sleep is so important. The less consistent your sleep schedule, the harder it is on your body. In an ideal world, you'd go to bed and wake at the same time every day. And it would be good quality sleep, too. Well you and I both know that's not the case for truck drivers.
Even if your driving schedule means switching from days to nights and back again, there are other things you can do to help promote quality sleep. Start by cleaning up your sleep environment.
Make it as pitch black as possible and turn your phone off (or at least suspend the notifications). Consider a white noise or meditation app to help you fall asleep quickly. And when you wake up, spend as much time as possible outside in the early morning sunshine. This will help your body reset its natural clock and help you feel more rested. It's certainly a healthier (and more relaxing) option than jolting your system awake with an energy drink.
3. Effectively managing stress
Practically everything about a long haul lifestyle adds stress to your day. When you're stressed, it makes it hard to sleep and no sleep means more stress. When awake, drivers often face the stress of traffic, equipment problems, and a ticking clock on hours of service. Even unhealthy foods can add undue stress on the body. It's a vicious cycle that can suck you in and lead to burnout.
Dissipating stress starts with awareness. Identifying what causes you stress means you can apply tools to help deal with them. I've found several meditation apps that help me de-stress. Yoga and tai chi are also tools I use regularly. But you might find a kickboxing class or favorite music playlist helps you. I even know drivers who have gotten a pet as a companion when on the road. Try out several ways to lower your stress and find the one that's right for you.
4. Finding time for movement
Sitting is a real problem. And when you're on the road, there's no avoiding it. Now many experts advocate 300 minutes of intense cardio exercise every week to combat the negative effects of sitting. And that's great, but not everyone is ready for that. I simply tell drivers to move more.
Rather than seeing your mandated 30-minute break as an intrusion on your day, look at it as an opportunity to do something that will make you healthier. I like to use my time to get out in nature. Take a walk, practice tai chi in the grass, and short hikes are my go to activities. Another popular outdoor option is geocaching, a using your phone. Geocaching is a fun outdoor game that gets you out of your truck and often brings you places you would never know exist.
Perspective changes everything
It's easy to get caught up in the negative aspects of being a driver—especially when they're affecting your health. But I challenge you to change your perspective and think about the positives, too. As a truck driver, you likely have more freedom than someone working in a cubicle does. Owner/operators especially have great autonomy to set their own hours and lanes. Not to mention, most days you probably have an amazing view out that windshield.
Get started on the path to wellness
We've covered many specific changes to make your lifestyle healthier. But the trick is getting started. When it comes to your health, there's no quick fix. So, if you want to take back your health, choose one or two small changes to make now.
The key is to develop habits that you can stick with. You can always add more goals later. And finally, there's no better time to start than now. Don't wait for Monday, make one simple change today, and build on your success tomorrow.