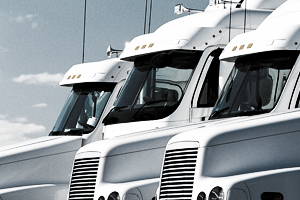 The Top 3 Biggest Challenges in Fleet Management | The Road
Commercial fleet managers face many of the same problems all managers do – effectively directing people and assets, saving money, and driving results. Yet, fleet managers must often solve problems in real-time and within a shifting and sometimes volatile marketplace.
We've rounded up three of the key problems facing managers of commercial fleets today.
1. Driver Safety and Productivity
1. Driver Safety and Productivity
Keeping drivers safe on the road is an absolute must when it comes to effective fleet management. Managers need to utilize safety education programs, regulations, and predictive analytics to ensure safety for drivers, their rigs, and their cargo.
The biggest focus in driver safety is on eliminating preventable accidents, a task that has been made increasingly complicated with the prevalence of technology like cell phones and GPS systems. In this case, driver education is imperative; using technology properly can go a long way toward ensuring safety, but can be very distracting otherwise.
Preventing accidents also keeps uncontrollable and unexpected costs down, things like repairs, downtime, and liability. Additionally, insurance costs are directly tied to your fleets' safety history, so keeping accidents at a minimum also keeps insurance costs down.
Enabling driver productivity is a main focus for fleet managers. Technology can play a role. Utilizing things like GPS and speak-to-call technology, your drivers can operate in the most efficient manner. There are additional time-saving benefits with other technology options, like geofencing and automated cellular tracking, so drivers can spend less time on tactical phone calls and give their full attention to the road. The best way to keep driver productivity up, however, remains the tried-and-true practice of hiring experienced drivers with clean records.
2. Cost-Reduction Initiatives
2. Cost-Reduction Initiatives
The call to reduce costs typically comes from the very top of the business hierarchy and applies to every department. When this responsibility falls on the shoulders of the fleet manager, he or she is faced with a myriad of variables in budgeting and forecasting.
For example, driver reimbursement, tensions with procurement created by resource sharing, and lifecycle costing are all affected by external market factors, further challenging fleet managers looking to cut down on costs. Reducing costs also involves managing unexpected expenses, like vehicle maintenance, which cannot be directly controlled. Again, skill in forecasting becomes imperative.
3. Fuel Price Volatility
3. Fuel Price Volatility
A major factor in the effectiveness of any cost-reduction strategy for fleet managers is the volatility of fuel prices. Fuel prices are difficult to forecast, and as a result, difficult to budget for. Creating an effective cost-management strategy, then successfully executing it as planned, has become incredibly difficult.
A popular way to save money on fuel is to switch to more fuel-efficient vehicles in your fleet. More miles per gallon (MPG) equals less fuel. Managers must of course consider the cost of switching, as well as driver satisfaction. Smaller vehicles and less powerful, more fuel-efficient engines may not be as warmly received as you would expect by drivers, so educating them on the true benefits of fuel efficiency is important. Keeping fleets in top condition with consistent maintenance helps keep fuel consumption down as well. Other efforts, like eliminating idle time and reducing the overall size of the fleet, can also help save on fuel.
Fraud management and fuel management security can also affect your fuel efficiency. An audit of the existing fuel management system could point out inefficiencies, such as misuse and theft, allowing managers to identify and eliminate them.
Most challenges facing fleet managers are just like those of other managers—increase productivity and decrease cost. But most of these challenges can be fixed with a mix of technology and some creative strategy.
Editor's Note: This post originally ran in January 2014. We wanted to update the content and share with you again as we consider it to still be a relevant topic for carriers.