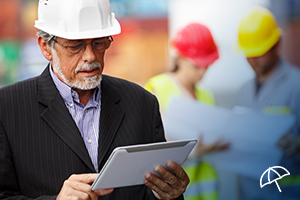 Omnichannel business models often lead to more complicated global supply chains. With the main focus on maximizing time and cost efficiencies, cargo risk management is often skipped over despite being a critical step in protecting your company. 
Due to the global outbreak of the coronavirus, many global shippers are recognizing the value in a risk management plan to best prepare  themselves for the current situation and others like it in the future. The risk of delays and lost cargo are real. Yet, without a crisis situation to motivate action, most companies place risk management at the bottom of the priority scale. According to a paper published by the Global Supply Chain Institute at the University of Tennessee, only 25% of a typical company's end-to-end supply chain is being assessed in any way for risk.
What risk does your cargo face?
Global shipments are exposed to multiple risks from a wide range of human and natural forces. At the same time, global shipments are subject to a unique set of international laws and/or treaties that limit the liability of carriers. When importing or exporting, you must understand the various types of risks your cargo could face and how you can help protect the value of the goods shipped globally.
Incidents during transportation are common: from severe weather conditions or collisions that result in loss of cargo; to theft, counterfeiting, political unrest, labor disputes, documentation failures, mechanical problems, etc. Any of those circumstances can delay or ruin delivery of the most perfectly planned global shipment. That's why protecting the value of products against risks while in transit is vital to safeguard your business. It's important to note that most cargo insurance plans don't cover lost revenue due to a public health crisis, like coronavirus. However, as we have seen, the coronavirus caused an extended Chinese New Year that delayed the exportation of product from China. As production recovers and factories reopen, many importers from China will need to consider expedited shipping services in order to restock inventory. Cargo insurance helps avoid additional vulnerability that you can't afford.
How should you estimate your cargo risks?
The most common method used to protect the value of goods from physical damage, theft, or other calamity is the purchase of cargo insurance. The challenge is quantifying the potential cost. You can estimate the chances of a risk event happening and multiply it by the cost if it did happen.
Once the amount is calculated, your next step is to reduce the expected loss by reducing the probability of the occurrence, or the cost of the occurrence. Armed with subjective probability estimates, companies can effectively buy the appropriate amount of insurance. While insurance is readily available, it is the responsibility of the shipper or consignee to ensure the coverage purchased best fits their unique exposure.
Best practices for cargo risk management
By moving more than 18 million shipments around the world every year, C.H. Robinson's global network of experts have the experience to assist you to try and understand your specific risk management needs and create the right solutions. Follow these best practices to minimize your cargo risk:
Buy the appropriate amount of cargo insurance for ocean and/or air shipments.
Ensure the valuation clause for a given shipment defines the maximum amount an insurance company will pay for a loss. Most valuation clauses include the commercial invoice value and any prepaid charges associated with the shipment, such as freight, customs clearance, or duty.
Choose an insurance intermediary with experience or specific training in international logistics and transportation insurance.
Work with a logistics provider that has in-house risk management professionals to help uncover potential liabilities in the supply chain.
Understanding the ins and outs of cargo insurance can be complex, but it is vital in order to reap the maximum benefits from insurance coverage. With the right protection, you can ship your goods around the globe with peace of mind, knowing that any potential damage, loss, or disruption will be covered.