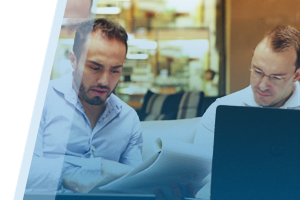 An Invitation for Innovation: 3 Tips for Hosting an Innovation Challenge. Transportfolio by C.H. Robinson
Innovation: every company wants it, but not every company knows how to cultivate it. New ideas, products, services, and methods can add value to your organization. So what can you do to build a culture of creativity, problem solving, and idea sharing?

An innovation challenge can jumpstart a forward-thinking mindset within your company. This is an event that invites employees to submit ideas, support and expand upon their colleagues' thoughts, and present concepts to leadership. Following each of the innovation challenges held at C.H. Robinson—which have been done with groups of all sizes, ranging from teams of 10 to divisions of 7,000 people—we've observed an increase in employee engagement and sustained enthusiasm to keep on contributing ideas. Those ideas have impacted our company in many ways, from bringing forth new business and training opportunities to implementing process improvements and efficiency.
If you're ready to hold your own innovation challenge, there are several factors that contribute to a successful event. Here are three tips to help you run a more effective challenge that garners a whole slew of ideas from your employees.
Appoint a charismatic person to lead the charge. It doesn't need to be a formal leader in your organization, but he or she should be a member of the group participating in the innovation challenge. Focus on getting a familiar face, someone who inspires and motivates. This person should be a swimmer in sink-or-swim situations, with the instincts and vigor to make things work no matter the circumstances or roadblocks.
Carve out time for innovation. Planning and implementing the challenge requires action. Evaluate what you know about your team and decide on the duration of the challenge. Will your employees be more likely to participate in a regimented, in-person, fast-moving challenge? Or would they prefer a virtual event that operates under a more leisurely, participate-at-your-own-pace timeline? Whichever route you decide, define the parameters beforehand and then commit to that time.
Communicate, communicate, communicate. Be clear about the goals, structure, and timeline of the challenge up front, and don't go silent after your initial announcement. Keep an open stream of visibility as you collect, vote on, and implement ideas. Use company-wide emails, conference calls, or face to face check-ins to answer questions, mark checkpoints along the way, and keep up the momentum.
Explore the ideas you collect—the next big product, service, or process could be there. If you'd like to dig into more information about managing a portfolio of innovation, this Harvard Business Review article does a fantastic job explaining the concept.
At C.H. Robinson, we're committed to building a culture of innovation. Watch our innovation video below to learn more.