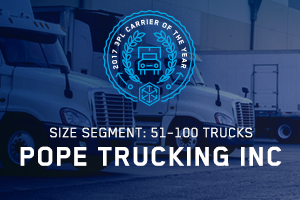 It's not common for something to last 20 years anymore. So when I started working with Pope Trucking, and I learned they've been in business for 40 years and hauled for C.H. Robinson for 20, I knew they were something special.
How Pope Trucking came to be
Today the company owns and operates 71 trucks out of southern Georgia. But like many organizations, they started with just one truck. In 1978, Clifford Pope ran a sawmill. Like today, capacity was tight and he could not find a truck to haul a load of lumber from Georgia to Florida.
Rather than miss the delivery to a valued customer, Clifford decided to do the job himself. He got his commercial driver's license and drove the load to Florida. And Pope Trucking was born.
Today, Clifford's children, William, Tracy, and Audrey, maintain their father's legacy and run the company together.
Award winning service and collaboration
I want to thank everyone at Pope Trucking for their commitment to superb service and announce they are our Carrier of the Year in the 51-100 size segment.
I'm very fortunate in that I get to work with many wonderful carriers every day, but Pope Trucking truly shines. They're always willing to rise to any challenge I throw at them. They easily handle time sensitive freight, adapt to daily changes in volume and demand, and adjust to imbalances of freight into and out of Florida.
And because of that, they've successfully increased their loads hauled by 75% since 2016. That's truly amazing work.
Adapting to technology
In order to meet all the daily challenges of short-term committed capacity, Pope Trucking has been eager to adapt to new technologies that make things easier on everyone (including less work for their dispatchers and drivers).
For the last year, they've utilized a hybrid solution of EDI and API connectivity to simplify the process and improve visibility throughout the supply chain. Since moving to the EDI/API solution, our relationship has grown even stronger because we can focus on more strategic discussions rather than status calls.
Help goes both ways
While typically Pope Trucking makes it possible for C.H. Robinson to maintain its commitments to customers, I'm happy to say that last year I had the opportunity to help Pope Trucking stay online.
After Hurricane Irma ripped through the Southeast, Pope Trucking was left without power and was having a hard time staying in touch with drivers who were on the road.
Fortunately, our office in Atlanta was still up and running. We were able to contact drivers and keep them loaded and moving while everyone at Pope Trucking waited to get power restored to their homes and offices.

Congratulations Pope Trucking!
You deserve to be our Carrier of the Year in every respect; you exemplify the qualities we look for in our contract carriers. Finally, I want to thank you for working with me. I know our strong working relationship goes a long way toward our mutual success. Congratulations!