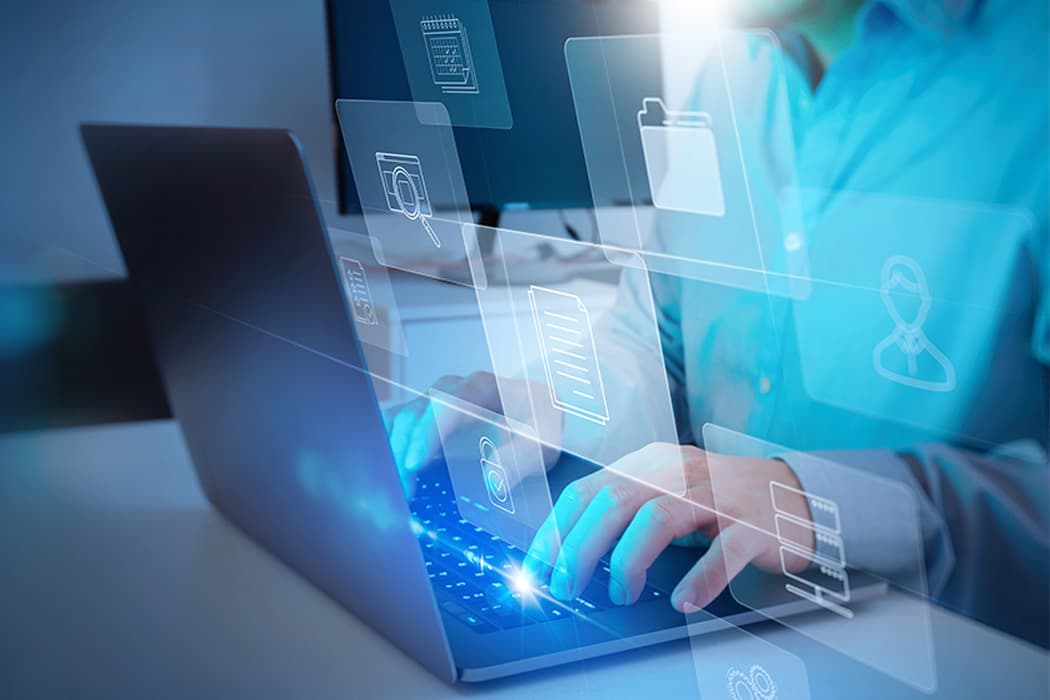 A survey conducted by C.H. Robinson this year found that 75% of our customers had increased needs for supply chain technology, automation, and predictive analytics due to the events of 2021. One of the difficulties related to this need is determining how to use that technology to drive business impact.
While shippers know supply chain technology can help solve for both day-to-day efficiency improvements and create longer term benefits, it can be hard to know where to start and where to go next. When solving for our customers' pain points, we focus on the role technology plays in the supply chain and how it can be implemented successfully.
Here are four common questions we receive from customers and helpful insights shared by our experts to answer them.
Am I sending the right shipments to the spot market? How much of my business should be transactional?
As the market fluctuates through different cycles, it is critical to have the right procurement strategy for freight. Examining your freight portfolio and determining how your freight will be treated best can help improve business efficiencies and performance and save on costs. Then when the market shifts, you are prepared with an agile strategy to help mitigate disruption.

Using your shipping data and C.H. Robinson's sophisticated data science algorithms, technology like Procure IQ® can help identify the best truckload procurement strategy for each of your lanes. It maps out your business's unique network of where you are shipping and allows you to drill into the lanes you want to focus on most. It is also the more effective way to focus on a lane strategy instead of a one-size-fits-all RFP.

By seeing how your freight fits into the largest dataset in the industry, you can buy smarter, save money, and achieve higher service reliability.


How can I improve efficiencies in the spot market?
Having a spot freight strategy should be a key part of your transportation planning. The days of manually calling up multiple carriers to cover a tender when a route guide falls through are over.

The spot market is both an intentional strategy for a segment of your freight portfolio and a back up when your contract awards fail. Digital connectivity lets you get real-time market rates directly in your transportation management system (TMS) or enterprise resource planning (ERP) system. This level of automation gets you instant market rates further upstream in your process, saving time and money by creating process efficiencies and increasing your lead time for better rates.

The C.H. Robinson dynamic pricing engine delivers prices based on data from our network of over 185,000 shippers and carriers – more data on real-time supply and demand, routes, and shipments than any other provider.

There are many ways to connect to these real-time rates, whether you have a TMS or ERP or are looking to implement one. C.H. Robinson has 35 integrations—and the list is growing.

If you don't already have a TMS, we offer solutions for small to global shippers. Freightview®, our TMS platform for small and midsized businesses, helps streamline the entire shipping process from bids to billing. For large, global shippers, our 4PL solution through TMC, a division of C.H. Robinson combines a global TMS platform with instant access to top tier logistics experts to help you connect, automate, and optimize networks across all modes and regions.


How can I save on costs? Am I getting a fair market rate?
Transparency is everything. And knowing you are getting a fair market rate and reliable capacity is a key component when holistically examining your spot strategy and looking for opportunities to save costs. With Market Rate IQ™, you can compare spot rates to neutral DAT market data based on $116 billion in shipment data to see how your rates compare to the rest of the market.

C.H. Robinson's information advantage allows you to see the root cause of your pricing, whether it's too much or too little lead time, weekend shipping, high same-day volume, or other factors. From there, Market Rate IQ helps pinpoint potential changes you can make to get more competitive pricing.


How can I gain better visibility to where my inventory is and if it is being delivered on time?
Real-time visibility is critical for a responsive, resilient, and competitive supply chain.



Navisphere offers centralized insights to all inventory at rest or in motion, across all modes and regions. Through data science, artificial intelligence, and machine learning, Navisphere can help you track, monitor, and react to supply chain disruptions before they occur.



With real-time visibility and proactive alerts, you're the first to know about status updates and delays so you can improve performance and customer satisfaction.


Solve your pain points with the right technology
For more information about the latest technology solutions and how they help solve common shipper pain points, watch our latest Market Insights Live! Tech & Automation Spotlight.
You'll hear a global market update followed by a special guest from Clarios talking about how they leverage the latest supply chain tech to take advantage of the current market and plan for the future.
Watch the video to hear more from my discussion with Steve Raetz, director of research and market intelligence on common challenges we see with our customers, how technology solutions can bring better outcomes to your supply chain, and why right now is the best time to implement supply chain technology.
Interested in expanding your supply chain technology? Connect with a supply chain tech expert now.