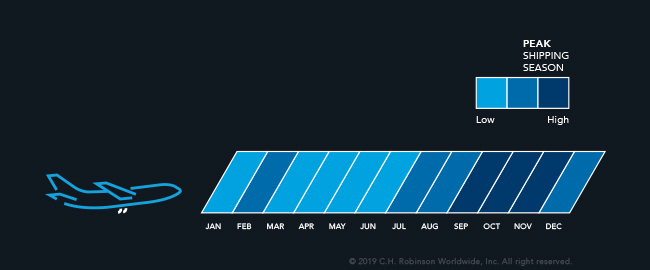 Today's consumers demand faster deliveries than ever before. So while cost and quality are often viewed as the most important priorities for a company's supply chain, delivery speed is quickly gaining in prominence. And bringing air freight services into the spotlight. 
Because consumers use technology to do on-the-spot price comparisons, they can order from any company in the world that has their desired product. Only the most flexible supply chains can succeed in such an environment.
Let's think about the changes that consumers have had on supply chains recently. For years, many organizations honed their replenishment activities, developed forecasts, and tracked SKUs. Reducing or eliminating inventory carrying costs, along with out of stocks using detailed analysis tactics had been the goal for many. Today, consumer expectations for next day (or even same day) delivery can place undue pressure on an organization's inventory strategy and existing replenishment capabilities. That's where air freight and third party logistics providers (3PLs)—like C.H. Robinson—come in.
The state of today's air freight market
Whether you only turn to air freight services for last minute, unplanned shipments or ship everything via air service to accommodate consumers' demands, you need to be aware that the current air freight climate is changing.
According to IATA, global demand for air freight service is decreasing and capacity is growing:
As air freight capacity becomes more available and at lower costs, it's possible to move your freight faster and for less than was possible in the past.
Now is the perfect time to reevaluate how air freight works in your supply chain and set up contracts that can leave you far ahead of the competition when the market shifts again.
Air freight's unique advantages
What comes to mind when you think about air freight? The expense? That's a common reaction for many in supply chain roles. But what should also come to mind is how fast it is. And in today's world of instant gratification, you might need the speed of air to compete globally.
That's not all air freight has to offer. Only air freight provides:
Speed needed for time sensitive shipments
Reliable access to remote and developing locations
The best combination of price and service
Multiple air shipment options, like air consolidation, as well as advancements in reporting and aircraft efficiency, can actually lead to better cost efficiency. Air cargo can become essential for many supply chains rather than too expensive.
Air freight balances speed with freight and inventory costs
If the cost of air freight still seems too high, keep in mind that your freight costs are only one component of the equation. Often, inventory carrying costs and the opportunity to capture market share can offset added air freight costs. Be sure to find an experienced global freight forwarder, like C.H. Robinson, that offers services for all your transportation needs—including air, ocean, and customs brokerage—and has experience working with the largest, most sophisticated shippers in the world to help you find the balance you need.
Final thoughts
To sum up, as air freight demand shifts, companies must be prepared to engage with consumers on their terms—and often this means faster deliveries at lower prices. Whether you're shipping from Los Angeles to Melbourne or from Sydney to Hong Kong, time is of the essence and air freight service might be the most practical choice.
Now that external influences mean air freight capacity is more available (and affordable) than it's been in several years. Will you take advantage of the shift?