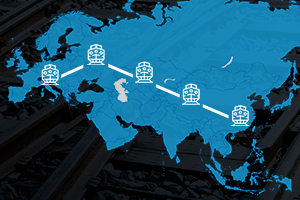 Have you ever considered changing your traditional mode of transportation? Or are you still moving products by air or ocean? As demands change, so must our supply chains. Now is the time to utilize all modes of transportation in the most efficient way possible. For example, you might be surprised how beneficial rail service between Europe and Asia can be for your business today. 
Investment in rail infrastructure
As early as 2008, multinational companies began experiencing rising labor costs in China's coastal provinces. Accordingly, they developed new logistic strategies to decrease those labor costs.  Working in close cooperation with the government of two Chinese provinces, Sichuan and Chongqing, these companies moved manufacturing facilities to inland China. But this solution faced new challenges—including the distance from port services in China.
As reported by OSW studies, China determined that rail service between western China, Kazakhstan, Russia, and Europe would best serve the unique needs of these manufacturers. As such, by 2011, the first regular rail connections from China to Europe opened between Chengdu-Lódz, Chongqing-Duisburg, and Zhengzhou-Hamburg to serve global electronic and automotive companies.
Today, rail carriers and companies continue to develop new routes, invest in IT, and build on the infrastructure to make rail service increasingly efficient. The result is faster transit times—In fact, C.H. Robinson's average rail transit time between Europe and Asia is 14-18 days, with some routes completing the trip in only 12 days. In addition, thanks to subsidies from the Chinese government, rates for rail service between Europe and Asia have dropped significantly, making it a cost-effective option to transport goods.
Reasons to consider rail service
Every mode of transportation comes with pros and cons. As such, each option can serve your supply chain in a different way. Could rail service benefit your supply chain? These seven questions can help you make the most effective decision for your business.
1. Are you looking to decrease air freight costs?
How often does your organization import goods via air service, only to keep those same goods in stock for one or more weeks? Air freight service is a perfect option for your just in time deliveries, but those that can wait in inventory for additional time may make more sense to move via rail service. With a slightly longer transit time, you can significantly cut transportation costs over air service.
2. Do you need faster transit times than ocean service can provide?
Ocean transit time between Asia and Europe is often 45 days or more. In many markets, demand changes so quickly that this is simply too long. You might be able to trade slightly higher rates for rail service to cut some of that time out. Efficient forecasting and planning can help you determine if rail service is the best way to cover market changes and avoid disruptions.
3. Do you need coverage far from sea ports?
Rail freight is highly beneficial in markets that aren't close to sea ports by eliminating the costs of pre- or on-carriage to the ports. If your manufacturing facility is closer to a rail terminal than a sea port—especially on the eastbound trade lanes—you may find rail rates are quite competitive to ocean service, with the added bonus of shorter transit times.
4. Have production delays caused missed ocean vessel departures?
Thanks to rail service's regular, reliable, and variety of departure days and times, you can get your goods to market even when delays—like extra production time—would have impeded a delivery via ocean service.
5. Do you operate in a changing industry?
Consider combining air freight, ocean service, and rail service to ensure continuous supply of products to your customers. For example, the fashion industry regularly relies on strategies that incorporate all three types of transportation to extend their production cycles as long as possible while delivering goods at one time to their destination warehouses.
6. Would you like to reduce your carbon footprint?
Rail freight is an environmentally friendly way to move goods. Whether you're working toward a CO2 emission target or simply want to help the planet, adding more rail service can be a great first step in that direction.
7. Do you move high value goods?
Maritime transportation of your high value goods often entails capital that is frozen for several weeks. This can mean high costs for your company—especially if you use external funding. Adding in rail service, which can decrease that transportation time can decrease the costs of interest substantially.
If you answered "yes" to any of the questions above, rail service may be for you. The chart below can help you further visualize the tradeoffs between different modes of transportation between Europe and Asia. Use it to help you evaluate what matters most to your organization—whether that's the shortest timelines possible, the least expensive option, or something in between.
Key to rail: The right service provider
Working with a qualified provider can further enhance the many benefits rail shipping can bring to your supply chain. A quality provider, like C.H. Robinson, will be able to offer a global suite of services backed by technology and people you can rely on. This is the key to reliably meeting all of your logistics services and technology needs today and in the future.
If you choose to incorporate rail service, be sure your provider can offer the following:
Established carrier relationships. We work together with established rail carriers, enabling you to easily switch from terminals to take advantage of daily departures to China.
Reliable service. Our global suite of services and global relationships helps us deliver reliable service every day, everywhere, in every mode—even when demand is high.
Trust our track and trace technology to know where your freight is now and where it's going to be.
Several rail options. With C.H. Robinson, you can choose from a wide range of rail service options including full block train, single or multiple containers, less than container (LCL) shipments, and oversize cargo service.
Customs and compliance support. When crossing borders, you'll appreciate a seamless process with our licensed customs brokers on both continents.
Cargo insurance. Since the liable party of a shipment changes throughout a shipment's journey, consider adding extra cargo insurance through C.H. Robinson to ensure your shipments are properly protected.
Door-to-door service. When your shipments need additional transportation or handling beyond a railyard, we have established relationships to deliver the door-to-door service you need.
Global connectivity. C.H. Robinson uses technology built by and for supply chain experts, powered by our information advantage to deliver smarter solutions to customers like you.
People you can rely on. Turn to global experts who really understand and are committed to your business. C.H. Robinson's people are ready to act as an extension of your team.
Learn more about our Europe-Asia rail service on our website.