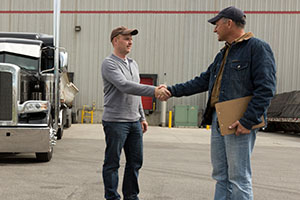 Building a relationship of trust with the direct consumer is the foundation of any successful business or brand. This is no different at C.H. Robinson, where our carrier account managers strive to develop new relationships and enhance existing ones with contract carriers each day.

"We view our carrier sales force as an extension of the carriers we interact with on a daily basis," said Michael Pawlowski, regional capacity manager. "Our sales team actively engages with the carrier community to identify customer opportunities that align with the current and future needs of contract carriers C.H. Robinson works with. We also actively offer state-of-the-art technology to contract carriers to increase efficiencies as we work to execute identified opportunities together."
Additionally, it is our goal to offer consistent load options, fair prices, and hire talent that is motivated to cultivate these relationships because we want it to feel different – and better – to do business with C.H. Robinson. We are highly invested in the success of contract carriers—we inquire about their daily load needs, provide them with multiple lane and price options, work hard to solve any issues they may have during their load transport, and most importantly, we get to know them as people.
Building a Trusting Relationship with Contract Carriers
Building a Trusting Relationship with Contract Carriers | The Road
During my tenure at C.H. Robinson, my colleagues and I have shared meals with some of our contract carriers, hosted them in our offices, in social settings, and sometimes even in our homes. We have attended weddings, and sadly some funerals, and watched many grow from one or two trucks to 20, 30, 40, or more. The mutual respect and support we share is both highly appreciated and critically important.
"I value the time that I've been able to spend with these carriers outside the office, to have dinner with them, to hunt, fish, and live life," said Mike Stephens, carrier account manager. "And when I'm in the office, I know that I not only have high quality carriers to work with, but I have loyalty and honesty. When we get together, we know what to expect from one another. I'll always receive a phone call or an update if there's ever a problem."
It is these trusting relationships with contract carriers that enable us to help deliver world-class service to all customers.
"Our office has a wonderful relationship with one key carrier in particular, AJ Transport," said Frances Pleimann, manager, Great Lakes capacity. "Over the past eight years, we have established a level of stability through volatile market shifts. Not only that, but AJ Transport has moved more than 5,000 loads with us, and has provided exceptional service on every single one. Trust, communication and adaptability have been crucial to success on both sides of this relationship."
We will continue to put relationships first in the way we do business. Because at the end of the day, your success is our success, and we wouldn't have it any other way.
Together, we can drive logistics forward and connect the world. If your C.H. Robinson representative has gone above and beyond for you and your business, we'd be thrilled to have your vote in the Inbound Logistics® Top 3PL Excellence Awards.