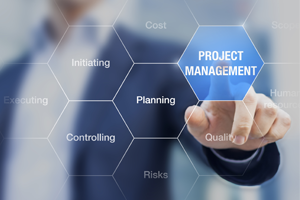 "If you fail to plan, you are planning to fail," said the American Founding Father Benjamin Franklin. His advice is just as relevant today—especially when applied to project management.

I've adapted the great man's words to take account of the challenges that modern project managers face: "Failing to plan for effective projects with tolerance for change, is planning to fail."
We all have managed projects at some point in our lives, even if we do not call them projects. The ultimate goal for any project is to achieve a specific outcome on a specific timeline. For example, if your project goal is "college acceptance," you want to be accepted in the college of your choice in the year you've planned to attend. Similarly, if your project goal is to have the "perfect wedding party," then your first step is to define what "perfect" means so that you can plan for those activities that will create your vision of perfection.
The same basic principles apply in business. All business projects must have specific goals and timelines. Projects can be as simple as preparing a customer proposal or as complex as implementing a new software solution or opening a distribution center. In all cases, planning for effective projects starts with a clear definition of success (reviewed and accepted by all key stakeholders), and an assessment of the critical milestones and factors that will contribute to that success.
Planning for effective projects also requires you to manage the project team's attitude toward change, which in many cases can determine the degree of success achieved. From traditional project management practices, we know the value of creating and following a plan, while avoiding scope creep (changes to original scope). However, in today's business environment, business strategies evolve quickly in response to changes in technologies, new customer demands, new regulations, or other external factors.
Therefore, when leading projects, you cannot assume that you will have a perfect plan from the beginning and that customer requirements will not change throughout the project lifecycle. This is where Agile principles come into play. These principles help leaders run projects more effectively. One important Agile principle is "welcome change." Applying the principle can help achieve competitive advantage for customers, while driving overall customer satisfaction.
Think of a project as a supply chain. For example, when implementing a new software solution, the first step is to source the right product. Next, you often change the software to align it with your customer's needs. Finally, you deliver it to customers. The benefits of an agile supply chain are familiar to logistics professionals—building agility into project management helps to achieve your goals in a similar fashion.
That doesn't mean you have to redefine project implementations. Your team can follow a traditional project management approach that incorporates those Agile practices that help customers to successfully achieve their business goals.
Next week, I will offer five tips for driving project success.