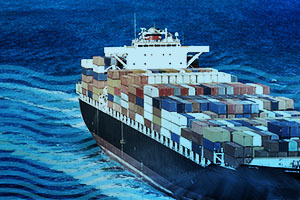 Industry trends can either support your goals or wreak havoc on them. With the continued increase in supply chain complexity and greater pressure to keep inventories lean and accelerate shipments, is your supply chain ready for what 2019 has in store?
Here are a few of my predictions of what you can expect in the year ahead—how much or little they influence our industry or your business in 2019 remains to be seen.
Change in fuel sources may cause delays and higher costs
New regulations drawn up by the U.N. International Maritime Organization (IMO) will require the industry to move away from fuel with a heavy sulfur content to a regulated maximum of 0.5%, compared to 3.5% now. By 2020, every ocean vessel in the world has to comply with the IMO 2020 legislation.
The industry is not fully prepared. The road to compliance will likely affect schedules as vessels dry dock to change fuel sources. Using the low-sulfur fuel could lead to high demand of a limited resource, which will be more expensive than standard fuels used today.
Businesses may find themselves having to pay the price for this change, feeling a tighter squeeze on margins. Ultimately, we expect the extra costs will likely fall on consumers for goods shipped around the world.
Environmental and social responsibility laws increase focus on compliance
We expect to see intensified scrutiny on the industry's approach to environmental and social responsibility. Australia's recent legislation changes are a few great examples of what the industry may face globally.
In 2018, the Australian government implemented heightened processes to protect Australia against the Brown Marmorated Stink Bug (BMSB), along with a number of other legislative changes to address high biosecurity risks. The continent also saw a greater need for compliance on permits and fumigation from Europe, and we expect this to continue.
The recent changes in Australia's Chain of Responsibility laws will also become more prevalent for Australia's businesses. These laws focus on compliance within the transport sector. As such, it will be critical for businesses to work with quality supply chain providers, like C.H. Robinson, who focus on compliance and have the ability to support and audit subcontractors.
Visibility will help overcome major disruptions to supply chain logistics
Last year, we saw a number of unexpected world events—including the Paris riots, extreme weather, and port union strikes in Australia—that can throw supply chains into turmoil, and derail (no pun intended) transportation networks. There are bound to be similar events in 2019.
While not always predictable, these external events can have a significant impact on supply chains. It is more important than ever for businesses to gain supply chain visibility. Clear supply chain visibility is the best way to adapt to external events and optimize supply chains for whatever the world faces next.
Supply chain visibility is also key to ecommerce
The undisputable growth of ecommerce has led to a demand for greater convenience and faster deliveries. Today's online shoppers truly value fast, reliable delivery and good return policies (especially free return shipping). There is pressure on retailers to increase their efficiency, optimize distribution networks, and streamline inventories.
Similar to managing disruptions, visibility is a large contributor to success. Visibility contributes to the overall trust both customer and retailer place in the supply chain.
Preparing for the year ahead
Third party logistics providers (3PLs) like C.H. Robinson are investing in technology to help meet 2019's challenges head on. From track and trace capabilities to comprehensive, customized reporting, these technologies help create synergies within your supply chain and uncover ways to minimize disruptions. Companies that are quick to use their supply chain visibility as a competitive advantage are poised to capitalize on the opportunities for growth.
As businesses around the world consider their supply chain goals in 2019, it's important to establish the role of your supply chain providers. Work with a provider that is an extension of your business, provides you with the ability to create tailored business solutions, and asks how they can help your business progress through the changing global landscape.