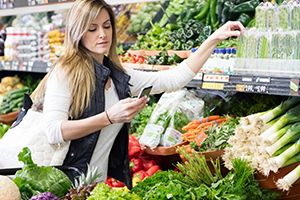 Driving demand via promotions, new products, and updated shelving can attract customers and keep them interested, but if you're spending most of your time on these tactics, you could be missing a bigger strategic opportunity.
The modern retail consumer
Digital retailers have changed consumers' expectations across the entire retail landscape, with convenience and immediate access to almost any product now foremost in consumers' minds. And with the advent of services like online ordering, parking lot pickup, and home delivery, retailers increasingly need to become supply chain specialists, or work with those who are, to stay competitive.
Gaps in modern retail supply chains
It's no secret that retail supply chains can be particularly complex; trying to continuously meet changing consumer demands while also driving growth can result in missed opportunities to manage cost and drive efficiency. For example:
Onsite managers might spend much of their time trying to consolidate perishable orders.
The corporate office could be interested in driving efficiency and standardized ordering processes.
Individual locations may be focused on getting accurate sales data for their specific ordering needs.
The result is a broken supply chain with late shipments of suboptimal product mixes in incorrect quantities. It's wasted time and duplicated effort: Nobody is getting what they're looking for, but it seems equally hard to figure out just where things are going wrong. Sound familiar?
Amid these competing pressures, how can retailers begin to optimize their supply chain to get the right product to the right place at the right time?
Change your thinking on retail procurement
It all starts with a shift in viewpoint: Don't expect your employees to be supply chain experts. When you're working in an environment where consumer demands mean more SKUs in smaller quantities, thinking beyond item-level management is where a supply chain specialist's expertise comes into the picture.
Third party providers like C.H. Robinson can offer Managed Procurement Services and assess the entire end to end pipeline of your retail model, looking at each element holistically to see how changes in one piece of the process could lead to changes in another. The best solutions will be unique to each situation and result in standardized ordering, helping ensure that the puzzle pieces of warehousing, pick and pack, procurement, transportation, and consolidation fit together cleanly to lead to lower costs and less work.
By bringing in an external perspective to study your retail supply chain, you can benefit from years of industry expertise to help optimize your capacity when consumer demand changes. That can produce real results: decreased expenses, faster inventory turns, better data analytics, smarter ordering, and ultimately more satisfied customers.
Look for my next blog where I'll examine some of the key roles technology is playing in changing the retail supply chain game for both online and brick-and-mortar retail stores.
For more information on C.H. Robinson's supply chain and procurement solutions, connect with an expert today.