TOP STORY: Supply of trailers, ocean containers, and chassis directly impacting over the road transportation
Insights on high volumes, low utilization of these crucial shared assets, and what you can do to help improve performance
This month's report covers the contextual information you need on ocean containers and port insights to better understand the impact to truckload, intermodal, and less than truckload (LTL) transportation in North America and offers strategies to help improve performance in today's market.
When discussing North American freight market insights, supply and demand are inevitable parts of the conversation. Typically, supply often refers to trucks, tractors, and drivers, while demand refers to volume or tons of freight.
In today's market however, supply has more complexity than this. It's no longer enough to focus on tractors being used for full truckloads, drayage, and LTL services. To complete the picture, you must also understand what's currently impacting truck trailers, ocean and intermodal containers, and chassis. Data for these asset types is less than perfect, but top line statistics and trends offer a useful perspective.
Overwhelming port volumes
It is well publicized that several ports in the United States, namely Los Angeles/Long Beach, Seattle/Tacoma, and Savannah, are overwhelmed with high freight volumes. As the largest volume ports, Los Angeles and Long Beach have had dozens of vessels anchored for months while waiting to unload.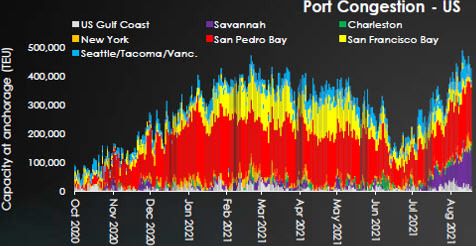 Source: Linerlytica, Aug 2021. Displaying TEU volume anchored at select U.S. ports. Southern California displayed as San Pedro Bay and showing ~200,000 TEUs on vessels on anchored ships at the time of this data capture. September brought even more vessels (~70 consistently anchored) than shown here for August. October will likely see some progress at bringing down the September levels.
Not all of this backlog can be attributed to container volume increases; in fact, it's much more complicated.
2021 end of year import volume forecast predicts greater freight volumes in the first half of the year with declining volumes in the second half of the year. This pattern is slightly above normal volumes in August.
2021 export volumes are expected to fall 5-10% from 2020 according to ACT Research.
An imbalance in freight flows creates challenges to asset utilization. The current environment exacerbates efficient container returns to the ports and to Asia.
According to ACT Research, "this dichotomy, which has also pressed empty export containers up to nearly 60% today from 40-45% pre-pandemic, is a key factor in the historic surge in ocean spot rates in recent months."
With the steamship lines offering less IPI capacity (cargo moving via rail to final inland container yards) via Los Angeles and Long Beach in the second half of the year, local crossdock and trucking inland from California has increased in the region. This has added more demand for chassis capacity and drayage services.
Putting high port volumes into perspective
Here's a rough estimate of the load volumes at the Los Angeles/Long Beach ports and an estimation of how it converts to truckload service.
On average, each ocean vessel carries ~8,000 twenty-foot equivalent units (TEUs). While not a direct comparison, roughly 2.5 TEUs fit in a single 53ʹ trailer/container. Using these rough estimates:
1 ocean vessel carries ~3,200 truckload or intermodal loads
70 anchored vessels carry 224,000 truckload or intermodal loads
~200,000 TEUs (this number varies) are in the terminal already, equating to an additional ~80,000 53ʹ loads
In August, the Los Angeles/Long Beach volumes were ~840,000 TEUs, which roughly converts to 336,000 truckload or intermodal loads for the month (~84,000 weekly loads). Typically, 17 container ships arrive in Los Angeles every three days on average, so resolving the backlog will take a significant amount of time.
Speeding up the port processing
Currently, U.S. ports are not 24/7 operations, but a test is in play to help speed the turn of much needed assets. Source: Supply Chain Dive.
While extended port hours may help, only a coordinated effort across logistics nodes and participants will make a larger impact. To make the most of 24/7 operations, dray carriers, crossdocks, and rail yards will also likely need to extend their hours. Ultimately, the breadth of the logistics industry needs to participate.
Chassis shortages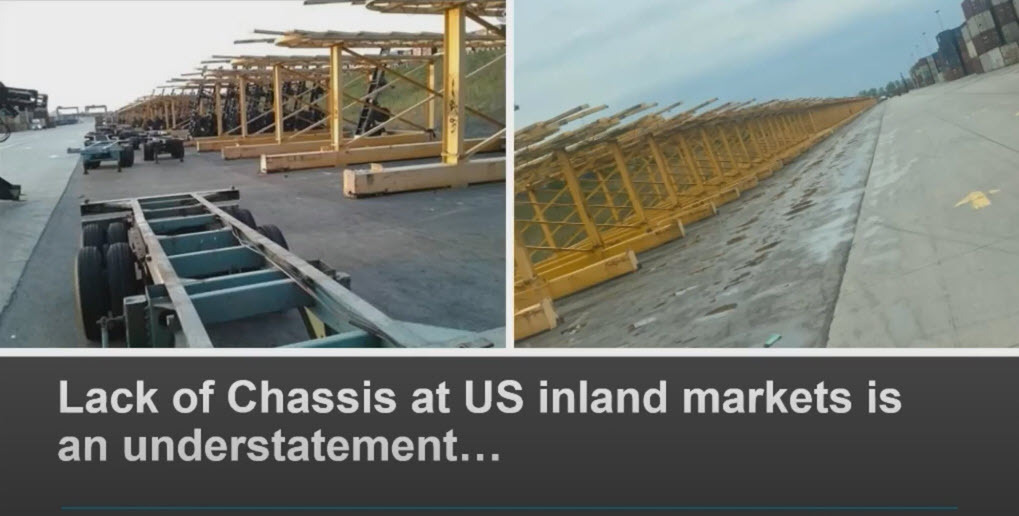 Source: C.H. Robinson. Chicago BNSF ramp.
There are ongoing chassis shortages across the country for both international and domestic container services. In the photos above, you get a clear sense of the chassis shortages that currently exist across the country. The left photo is from 2019. It shows an active rail yard with some chassis bays empty and others full. The right photo is from September 2021 and shows there are no chassis available.
The contracting chassis pool—something that's been ongoing since 2018—is a complicated situation between domestic and Chinese chassis manufacturers that has been impacted by manufacturing capacity and tariffs. Currently, international chassis are assigned to certain ocean fleet containers rather than being made available for use across all containers. This significantly limits optimization opportunities.
Rebuilding a chassis fleet will take time
Chassis production is 35% below where it should be for today's market cycle. This is largely due to the 200%+ tariffs on Chinese chassis and subassemblies that have been in place since late 2020 (made official in May 2021).
The 2021 build forecast is ~30% below what's needed to sustain the chassis fleet. Intermodal volumes will be limited by chassis capacity, likely for at least another 6-9 months. Source: ACT Research
Idle containers
Intermodal, like other modes, faces the situation of containers that are not in the right locations. This is caused by an imbalance of imports and exports, loaded containers being used as storage, and the ongoing truck and chassis shortages across the country. All these factors are limiting the effectiveness of terminals.
Intermodal containers as storage strategies
For some companies, holding inventory in containers at a port is cheaper than current warehouse costs. In other instances, it may be the only option for storage. According to WSJ citing Cushman and Wakefield PLC, "about 98% of warehouses in Southern California's logistics-heavy Inland Empire region are fully occupied, and the entire Western U.S. has a 3.6% vacancy rate." Source: The Wall Street Journal
Intermodal container dwell times increase
Dwell time for containers at 11 major railroad depots in September averaged 9.8 days. This is up significantly from 6.7 days in May and 5.9 days in February. The dwell time for containers in Los Angeles reached almost 16 days. Source: Bloomberg and Hapag-Lloyd AG
Trapped trailers
Similar to intermodal, trapped/loaded trailers continue to be an issue for truckload as well. The practice of using trailers and containers on chassis as variable storage continues to create challenges for fully optimizing the shared fleet across modes.
These insights from carriers and an analyst explain the impact of low trailer utilization:
Potential capacity increase from optimization: "... capacity could increase 3% to 4% if trailers were turned efficiently ... said Derek Leathers of Werner" Source: Transport Dive
Trailers are used past normal retirement dates: A major LTL carrier shared they are running trailers past normal retirement dates due to capacity needs and an inability to find new trailers to replace aging ones. These often require material repairs that consume more time and keep trailers off the road longer than normal repair times.
Trailer orders and production remain flat: U.S. trailer orders recovered to 13,600 units. Most original equipment manufacturers (OEMs) are not entering orders for 2022 yet. Production was flat on a per-day basis. The industry is in a holding pattern until the supply chain improves. Source: FTR Oct Trucking report
Trailer productivity continues to diminish: Productivity of trailers continues to worsen as measured by ton miles per active trailer: This metric is expected to deteriorate further with a forecast down 4.8% from the Q2 2020 by this time next year. Source: FTR Freight Forecasting Model

Q3 was down 1.2% as compared to pre-pandemic levels.
Q3 was down 3.5% as compared to Q2 2020.
Addressing these issues and increasing capacity requires a faster rate of turning equipment and strategies to free up trapped trailers, containers, and chassis from being used as short- and long-term variable storage.
North America's interdependent logistics
Fundamentally, the port experience is not just the port experience. It is interconnected with the entire North American logistics capacity environment. The actions of both logistics asset owners and participants in the logistics markets contributes to the market conditions—whether that's improvement or extended challenges.
Today's transportation marketplace has little to no elasticity. All market participants should plan for regional and super regional disruptions. Hurricane season lasts through November and early winter storms are also possible. These and other disruptions can easily displace capacity in the same way squeezing a balloon displaces the air. Transportation capacity works the same way, disrupting trade as capacity moves to where demand is and away from the disturbance.