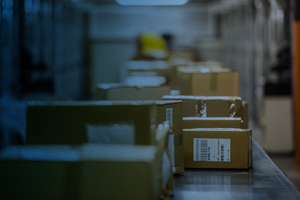 It seems impossible that as I write this, summer is wrapping up and the holiday season beckons. But for many of us in the supply chain industry, the holiday shopping (and shipping) season has been on our minds for months already.
And if you're like many of the companies I work with, your last mile strategy is beginning to take center stage, especially when considering an omni-channel shipping strategy. So many consumers continue their shopping—both in-store and online—until the very last minute. Getting your products to their final destinations (whether that's a store shelf or a consumer's living room) is critical to happy shoppers and positive customer experiences.
But what exactly goes into a last mile shipping strategy? At C.H. Robinson, we include four key services in our last mile solutions. Each should have its own place in your holiday shipping strategies. Below, we take a deeper look at each one.
4 Key Services for Your Last Mile Solutions
1. Omni-channel fulfillment
While ecommerce is officially on the rise, brick and mortar stores will remain the primary shopping destination for many this fall/winter. Accordingly, the majority of retailers are incorporating omni-channel strategies to best serve their customers wherever they want to buy.
Create a fulfillment strategy for an omni-channel world.
Customers—whether they're consumers or companies—need orders fulfilled and delivered faster than ever. It's just the world we live in today. Make sure that your fulfillment plan can succeed across any channel.
Define your fulfillment processes.
Your retail, non-retail, general, and seasonal merchandise may all come with their own fulfillment processes. Be sure to consider which (if any) processes need to change before, during, or after the holidays to account for changes in demand. Remember, the key is to maintain your reliability and boost customer satisfaction.
2. Store distribution
For those of you who need to distribute your products direct to stores across the country this holiday season, timing is critical. Not only do you need to meet retailer delivery requirements, you face a hard deadline if you need to hit specific shopping days like Black Friday.
Consider direct to store delivery models
If you're looking to add speed and flexibility to your distribution process, you may want to consult an expert about a direct store delivery (DSD) model. By shipping directly to stores, you can bypass the need for a distribution center network. This can speed up delivery times just in time for peak shopping.
3. Home delivery
On the other hand, if you ship directly to people's homes, you likely know just how competitive that is in today's ecommerce landscape.
Balance cost, speed, and customer expectations
Home delivery can take many forms—from threshold drop off to assembly and installation. Weigh the cost of such services against the expected customer experience before offering to customers. More importantly, make sure your carrier base is prepared for the holiday surge. You may need to consider adding overflow contingencies into your holiday home delivery shipping plans.
4. Returns
Returns is a broad category that can encompass everything from product retrieval, scanning, liquidation, and return to vendor. Historically, returns peak after the Christmas holiday. But in recent years, with the mix of in-store and online shopping, it has been creeping into late November and December. And they will come in masses. Keep in mind that your reverse logistics plan should revolve around visibility and communication.
Define and streamline your retrieval strategy.
Prepare for inbound merchandise at your warehouse and have processes to validate those returns—perhaps by involving a third party. Without balancing the velocity of returns, your inbound and outbound operation could quickly collapse.
Balance throughput with recovery.
With a large percentage of returns ultimately ending up in the secondary market, it is important to consider creative ways to quickly turn inventory through crowded warehouses while still achieving optimal recovery values. There are a variety of logistics/liquidation solutions that will balance your goals for returned inventory.
Focus on the last mile during holiday surges
The likelihood of something going wrong in your supply chain during the holidays is much higher than other times of the year. It can be hard to predict exactly what will go wrong—or when it'll happen. Working with a third party logistics provider (3PL) like C.H. Robinson that's agile, armed with backup plans, and solution-oriented can make all the difference in keeping your plans on track. Contact us today if you want to connect with an expert.