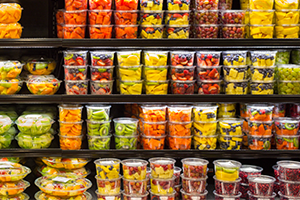 In my last blog, I talked about how consumer demands for a larger and more immediate selection of products are forcing retail businesses to become supply chain professionals.
Focusing on growth requires seeing the big picture, but this becomes difficult when individual store locations—ordering in various quantities from various suppliers with various costs—operate independently from one another. How do you optimize your supply chains to be efficient and responsive when you lack unified visibility to them?
You don't have to be a retail supply chain expert
It begins by recognizing that you do not have to be a logistics authority to optimize your supply chain.
External providers, like C.H. Robinson, dedicate their entire work to analyzing the opportunities and gaps in ordering, shipping, transportation, and receiving for companies large and small. They help create, and then implement, supply chain visibility and process improvements by leveraging one of the most powerful tools that third party providers can offer: technology.
Technology acts as a veritable "X-ray machine" for supply chains. Among so many entities involved in so many complex ways, the right technology can provide the visibility needed to accurately assess supply chain infrastructure and performance.
Using technology to coordinate and automate purchase orders
One of the biggest advantages that technology can provide is facilitating better communication between all elements of your supply chain.
Automation offered by the best supply chain providers helps ensure purchase orders flow easily through your system. By creating a "universal language" that is spoken digitally by all parties, the technology considerably improves speed and clarity. Orders of varying quantities can be consolidated automatically to optimize freight, timelines, and cost. Moreover, these systems allow for the creation of universal item catalogs, driving consistency across all locations and channels for easier management and control of your SKU portfolio.
Using technology for retail capacity building
Conventional retailers' supply chains often lack the distribution center (DC) network needed to handle modern consumer demands for speed and convenience. When quick shipping is a must, having the ability to respond to a high volume of orders from many locations requires a denser infrastructure than most retailers have.
That's where many external providers' network technologies of scale come in.
Good third party providers have the resources to set up flexible supply chain solutions that dynamically adjust to consumer demand. By plugging into an existing network that has much broader coverage than their own, retailers can gain access to logistics solutions that don't require costly capital investments or compromises in capacity. Shifting resources to realign geographically then becomes easier, potentially resulting in revenue-generating opportunities and exponential cost savings.
Taking the next step
Retail businesses all share the same priorities: more people visiting their storefronts and online order platforms, more often, with more products in their (real or virtual) carts. But retailers don't have to react on their own to the supply chain implications of changing consumer expectations.
Services like C.H. Robinson's best in class Managed Procurement Services offer customized cold supply chain solutions and optimizations for retailers of all sizes, helping standardize and streamline ordering to reduce complexities and find significant cost savings.
For more information, connect with one of our experts today.