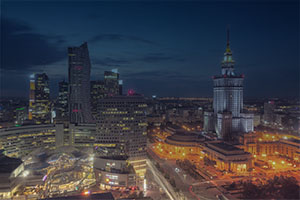 Celebrating 20 Years Delivering Logistics Solutions in Poland | Transportfolio
What started as a single office in Grodzisk Mazowiecki in 1997 has now evolved into 420 in-country logistics experts spanning seven offices. On behalf of C.H. Robinson, it has been our privilege to be an integrated part of the vibrant transportation market in Poland for the past two decades. Last year alone, we helped 6,000 customers deliver more than 341,000 shipments. Of course, these statistics are only part of Poland's greater story, and what it means to us to still be an active part of it, 20 years later.
How we've seen Poland contribute to the European Union
How we've seen Poland contribute to the European Union | Transportfolio
While working alongside the shippers and carriers in Poland for the past two decades, we've been able to take close note of the country's economic environment and transportation practices, learning from and evolving with them. Manufacturing is the cornerstone of the economy, which has been growing at an average annual rate of 4 percent. In fact, the country has not suffered a single year of negative economic growth for 25 years, according to the International Monetary Fund. Like the neighboring countries of Eastern Europe, shippers in Poland have created a stable market that has generated considerable growth in the transport sector.
In addition, the drivers in Poland have been essential to overall economic activity throughout the European Union. Most (66%) of the EU's total tonne-km that are transported by trucks are actually moved by in-country hauliers. Local drivers tend to transport freight across short distances, sometimes with multiple deliveries. However, a small but growing percentage (currently 1.8%) of tonne-km is hauled through EU countries using cabotage truckload.
As we explained in a recent white paper that compares the EU and U.S. truckload markets, cabotage refers to transporting goods between two places in the same country by a transport operator from another country. Under EU cabotage rules, a driver can carry 3 loads in 7 days in a destination country; after that, they can either return empty to their home country or take a cross-border shipment. Most cabotage occurs in countries that share a common land border with cabotage carriers. At 12 million cabotage shipments, Germany has the highest volume, followed by France at nearly 8 million shipments. Poland has led the way among all EU countries in providing cabotage truckload services.
We've observed this phenomenon first hand in our daily work. When Poland experienced higher unemployment rates early in the decade, many people became truckload service providers. Drivers from Poland provided cabotage across the continent. EU shippers benefited from cabotage and the influx of drivers from Poland in several ways. Cabotage made drivers and equipment more readily available throughout Europe. Using technology, even small carriers could easily find freight outside their home territories, which made it easier for shippers to find carriers who preferred their lanes and product types. And with fierce competition between carriers from Central and Western Europe, EU shippers saw relatively stable rates.
What we've learned in the last 20 years of providing logistics in Poland
What we've learned in the last 20 years in Poland | Transportfolio
This infographic captures a few of the milestones in our history so far.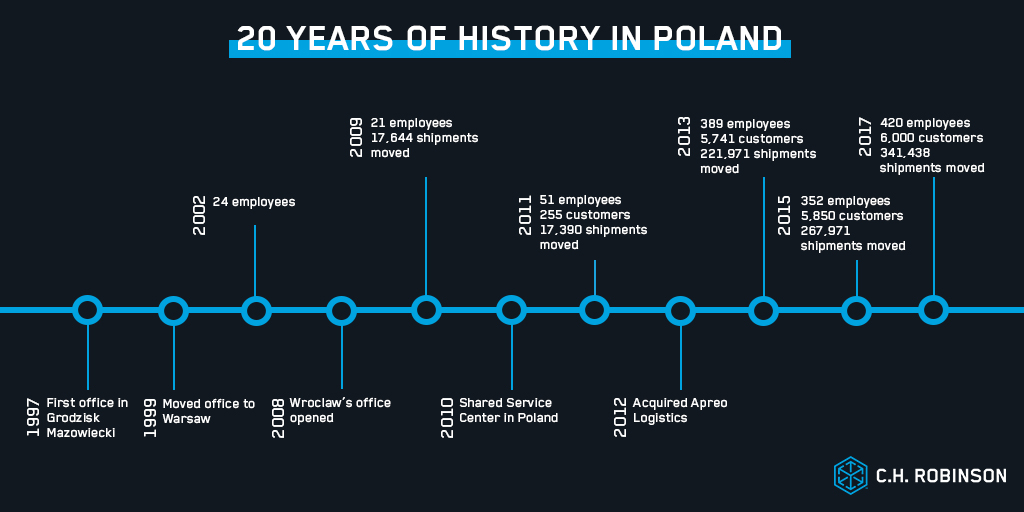 We feel honored to have been able to build such strong, lasting relationships, both with customers like Tesco Poland and with carriers in the region. By working and collaborating together, we've been able to expand our global logistics network and our business across Europe.
We've also seen that the same local-but-global strategy that works so well elsewhere in the world fits the market in Poland perfectly. Our customers here value both our in-country presence in 7 local offices and our deep knowledge of global transportation markets. That combination makes it possible for companies to sell their products virtually anywhere in the world, knowing we can help them efficiently move their freight wherever it needs to go.
Finally, we know that at its core, transportation is still all about helping people, face to face. Yes, processes can be made more efficient. Yes, technology can automate routine processes. But while we provide both to our customers and carriers, it still takes talented people, working together and applying the right processes and technology, to solve real-world problems. That's how it was when we opened our first office in Grodzisk Mazowiecki in 1997. And that's how it is today as we work with an increasing number of shippers in many industries.
Final thoughts
Final thoughts | Transportfolio
We're all excited to celebrate our twentieth anniversary in Poland. We appreciate our deep history here, and we look forward to continuing to drive innovative logistics solutions for people and businesses as they deliver their products to the rest of the world.