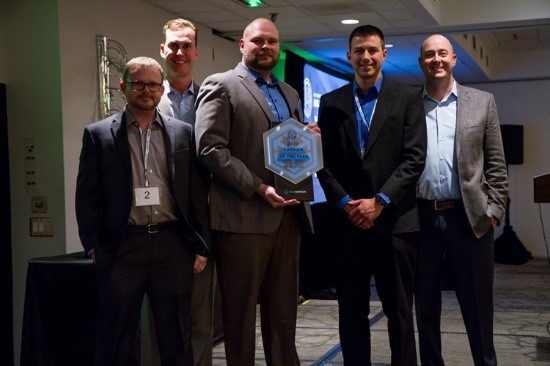 I've never met more authentic people than my contacts at A.N. Webber. Their straightforward and reliable service makes them a clear leader in my mind. After working with them for 16 years, I'm pleased to announce that they're our Carrier of the Year in the 101-300 size segment.
They continuously provide capacity solutions for many of our top customers. From drop trailer, committed, and dedicated trucks, they excel in every area. And their willingness to step up for several customers during hurricane relief efforts is also worth mentioning as an example of their excellence.
A family company through and through
For anyone who has worked with the folks at A.N. Webber, this announcement shouldn't come as a surprise because A.N. Webber is a truly special company. A.N. Webber is first and foremost a family company. They've been in business for over 70 years and have always maintained the importance of family. The company now spans four generations, they often say that trucking is in their blood.
From one truck purchased in 1947 to haul construction materials, A.N. Webber has expanded to also include tankers, flatbed services, warehousing, and logistics planning. Beyond growing their services, they also have several satellite terminals across the country in addition to their original office south of Chicago. The combination of offices means they can provide nationwide service to their customers.
Adaptability goes a long way
One of the things I love about working with A.N. Webber is their attitude toward technology. They're very open to it and recognize how important the right technology can be to simplifying a process.
For example, they were one of my first carriers to implement electronic data interchange (EDI) capabilities nearly 10 years ago. They immediately understood that EDI would free up valuable time for more strategic measures, reduce the hassle of check calls, and increase the accuracy of tracking updates.
That level of adaptability extended to our Carrier Advantage Program. Since the program's inception, A.N. Webber has remained committed executing at a high level, making improvements, and quickly adapting to our scoring changes.
Focus on education
Beyond serving customers, A.N. Webber has also collaborated with us on several educational projects. Some of the larger initiatives they've contributed to include an ELD study with Iowa State University and several blog posts for The Road.
Holding on to a great relationship
I've worked with A.N. Webber for 16 of my 17 years as a C.H. Robinson contract carrier representative and they've been working with C.H. Robinson longer than I have—over 20 years.
Over the years, I've gotten a few opportunities to get to know the A.N. Webber team. I've visited their office in Kankakee, IL, a few times, which allowed me to see their day to day operations and put faces to the names and voices I've grown to know so well. These visits helped strengthen our ongoing relationship, but were largely focused on process and improving our work together.
So getting to see them at our first Carrier of the Year Awards Ceremony was by far my favorite time spent with them. I enjoyed watching their excitement, pride, and honor at being recognized by C.H. Robinson. Here's a picture of us at the event.
It features Todd Perzee of A.N. Webber holding his award, surrounded by some of the people who support him from C.H. Robinson: Me (Keith Boutell); Pat Nolan, vice president; Ryan Erhard, account manager; and Kevin Abbott, vice president.
Thank you to everyone at A.N. Webber
You are a pleasure to do business with and I know just how hard you work. Thank you for all you do and congratulations on being named C.H. Robinson's Carrier of the Year. You've earned it!