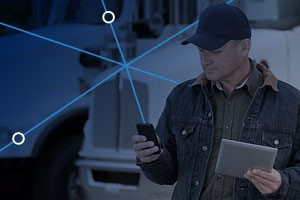 Because 2018 was a strong year for carriers in the United States, it fueled an ongoing need for more drivers. In fact, The Cass Truckload Linehaul Index identified 2018 as having the "strongest truckload pricing achieved since deregulation." This strong demand for truckload capacity, coupled with not enough carriers to meet that demand, led many carriers to seek new solutions and technology—like mobile apps—to help grow their business.
It's difficult to know what's on the horizon. Forecasts for 2019 are still hazy. Analysts aren't sure if the difference between supply and demand will persist throughout the year, which can make planning for your business a challenge. I expect the most successful carriers in 2019 and the years beyond will begin to focus on creating quality driver experiences. Here's why.
A new focus on driver quality of life
Until recently, focusing on a driver's quality of life wasn't often a high priority for carriers or shippers. Now it's a sign of a quality company poised to succeed.
Historically in this industry, trucks and profit margins have led transportation and supply chain planning. Issues specifically affecting drivers, such as electronic logging devices, shifted some attention toward driver retention, but now, driver frustrations like detention and dwell times—and the lack of respect for truck drivers—are taking center stage.
Instead of putting up with these frustrating issues, smart carriers are collaborating closely with shippers and third party logistics providers (3PLs) to quickly resolve these challenges. I expect this to really change the way carriers and the rest of the industry will operate in the coming years.
Many shippers and 3PLs are already getting on board with this shift. For example, here at C.H. Robinson, we have ongoing efforts to help carriers and drivers reduce routing waste, get respect from shippers, and plan more effectively at a strategic level.
We're powering these initiatives through data—we collect and analyze information on 120,000 shippers to match premier carriers with collaborative shippers. Together, this combination of data and experience improves carrier efficiency and profitability.
Mobile apps are changing the business
Another change to the marketplace that improves driver experiences has been the rise of mobile freight apps. These apps make it simple for carriers to find and book loads, which makes it easier for drivers to know where they will be—and more importantly, when they'll be home.
However, because moving freight is so complex, standalone digital freight brokers' capabilities are still relatively limited in today's trucking market. Developing freight matching applications that drive profits while keeping costs low requires data, scale, and a deep understanding of the intricacies of freight transport—something only well-established organizations can accomplish.
That's why we've invested in our carrier and driver mobile apps for years and will continue to do so in 2019.
Navisphere® Carrier provides everything owner operators and small carriers need to manage their business while on the road. With this app, carriers can easily find the freight they want, when they want it. And we designed Navisphere® Driver specifically for the needs of fleet drivers, providing automatic status updates throughout the life of a load. Both apps let users upload documents from the road and issue invoices automatically, facilitating perhaps the most important feature of the apps: faster payment processing.
I've heard consistently from both carriers and drivers that these kinds of apps are helping them easily and flexibly find, book, and report loads. In 2019, I expect increased emphasis on these types of apps as an easy way to accelerate business growth because they help automate carriers' and drivers' most time-consuming tasks.
Technology's role will only increase
No one can say for sure what 2019 might hold, but as the industry continues to change, I'll continue to be thinking about the tools carriers and drivers need to streamline and grow their businesses.
As quality driver experiences becoming more and more central, I'm excited to see how technology will continue to improve the industry. Reach out to your C.H. Robinson carrier representative to start that conversation today.
Learn more about our carrier technologies or download Navisphere Carrier from the app store today.