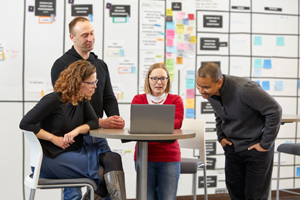 One of the most frequent comments I get from customers is: "We have so much data but we don't know what to do with it." Everyone in the logistics industry says this but they're each trying to answer different questions – from how do I get my products delivered to customers faster to meet the ever-changing consumer demands to how can I improve dwell times and on-time performance? 
At C.H. Robinson, we have always been known for finding a way to answer these questions and get things done, solving any supply chain problem no matter where or when it happens.  Today, we are taking that commitment one step further by introducing Robinson Labs, a new innovation incubator with a global team of experts that will ensure we have the dedicated resources to support our customers on their unique data analysis needs.
Across all industries, executives recognize that innovation is critical to business growth and that successful long-term innovation requires more than an internal discovery phase. In a recent article, researchers state that a comprehensive discovery phase is critical to innovation but true innovation also needs more. Innovation is about having the time and resources to test, and incubate, the most promising ideas. Successful innovation also means accelerating the most promising opportunities to ultimately get them to scale. We agree. Through Robinson Labs, we've created a collaborative culture of experimentation that can easily scale. And it's a collaboration that extends to our customers.
Today, our data science experts are working directly with leading customers, such as Target and L'Oréal, to answer their toughest questions in order to design personalized data science solutions that improve savings, reliability, and visibility. Then, our Robinson Labs and technology teams work together to leverage our learnings to benefit all of our 124,000 customers and 76,000 carriers.
I've had the chance to spend time with our data scientists, innovation teams, and logistics experts to see first-hand how they are designing solutions that anticipate and address our customers' supply chain challenges. I've been impressed with what I've seen. The team is always looking to push the boundaries of what's possible to drive smarter solutions – especially those rooted in data science – for our customers.
We know that our customers want technology solutions to strengthen their competitive position, and we can deliver those solutions because of our ability to lean into our technology that's built by and for supply chain experts and our information advantage. Led by Tim Gagnon, our Vice President of Analytics and Data Science, this new and growing Robinson Labs team is the latest way we are demonstrating our commitment to innovation. And it's another example of how we're leveraging our $1 billion tech investment to bring the best ideas and most innovative solutions to bear.
I know there is no one in this industry who is better positioned to help our customers succeed than our global team. I'm also confident that, together, we can solve even the most complex logistics challenges.
To learn more, please visit www.chrobinson.com/robinsonlabs.