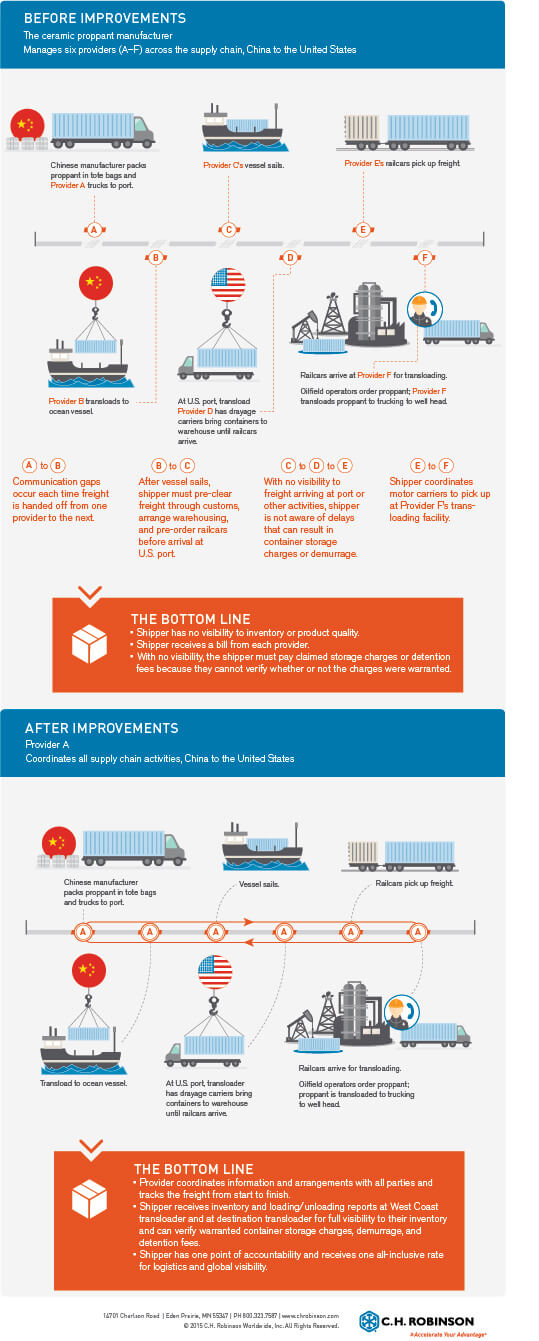 6 Steps to an Optimized Oil and Gas Supply Chain
The oil and gas industry is vitally important; it keeps our lights on, gets our cars moving, and supports technological innovation. Because oil and gas supply chain effects are so widespread, business operations absolutely cannot suffer delays or disruptions.
Thus, optimizing your oil and gas processes is incredibly important, not just to your business success but to global functioning.
3 Strategies for Oil & Gas Supply Chain Optimization
Follow the below strategies to ensure your supply chain always delivers your goods and services on time:
1. Gain Visibility 
Oil and gas companies need visibility into their supplier, project, customer, and business processes to ensure complete tracking and monitoring of the movement of goods. Accomplish this through transportation management system (TMS) technology.
A TMS is a cloud-based software solution that gives businesses visibility into all locations, suppliers, and customers, enabling real-time tracking and the ability to immediately and proactively address issues as they occur.
With real-time supply chain visibility, oil and gas companies can achieve:
Lowered safety stock inventory levels
Shortened inbound supply lead times
Shortened order cycle times
Reduced purchasing and order expediting costs.
2. Always Remain Compliant
Regulations are constantly changing due to governmental policies, both in the United States and abroad. The products oil and gas companies handle tend to be dangerous in nature, and therefore are highly controlled, making shipments— especially global importing and exporting— challenging to keep compliant.
Working with an oil and gas expert can help optimize the speed and compliance of your supply chain processes. These trained professionals advise your business to ensure your global and domestic shipping are compliant while helping you find areas in which you can boost efficiency and reduce spend. A supply chain consultant is a key factor in mitigating the numerous risks associated with your operations.
3. Prioritize Communication
In every industry, supply chain relationships are important. And, for oil and gas, they are even more vital as processes tend to span diverse supplier bases, geographies, time zones and government regulations. These complexities can lead to challenges like inventory shortages and improper goods documentation, if there is not productive communication.
Achieve this by forming strong industry relationships, keeping channels open, and giving frequent status updates to your carriers, suppliers, and partners. Be transparent about your operations' statuses to ensure all involved parties are on the same page and can effectively work toward delivering results together.
Use Case: Ceramic Proppants
With multiple freight handoffs, service gaps, and surging demands, global ceramic proppant manufacturers have one of the most complex supply chains in the oil and gas industry. Used in fracking operations, ceramic proppant is heavy and dense, so transportation represents one of the largest costs, relative to the overall value of the product.
Conversely, getting the transportation right can positively impact profits. But certain innovations in transportation and logistics are enabling these shippers to plan more effectively and manage risk.
In the "before" diagram below, you'll see a typical supply chain experience when a manufacturer ships ceramic proppant from China to North America. The "after" diagram shows that same experience once transportation efficiencies are added to the operation.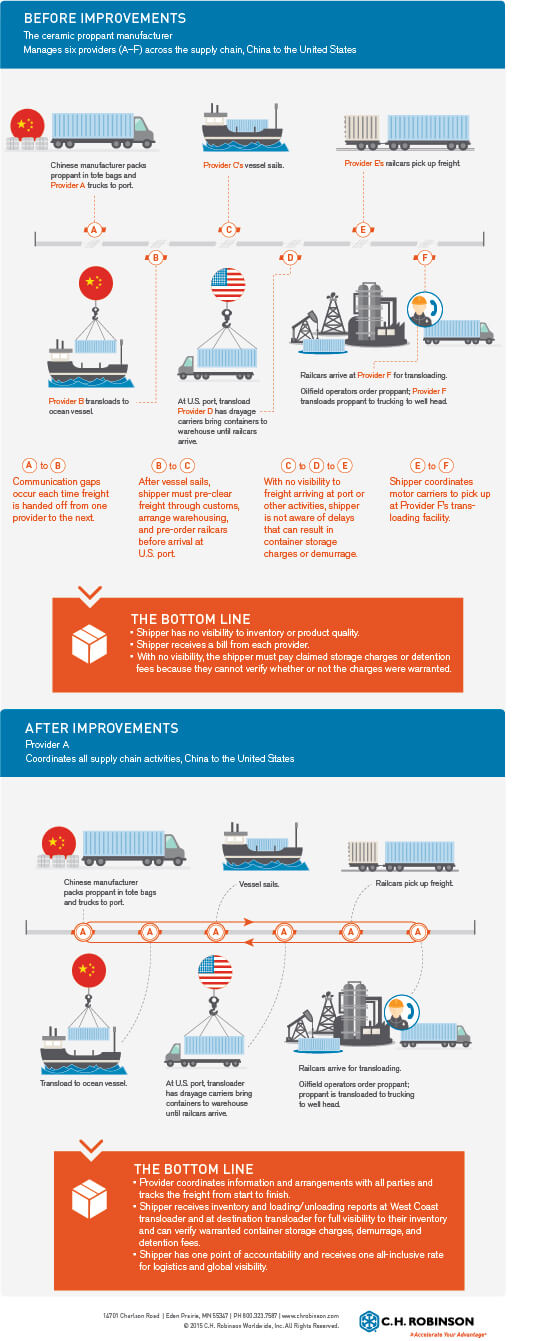 Proppant manufacturers aren't the only companies in the oil and gas industry that can benefit by taking a fresh look at gaps in their supply chains. Whether upstream, midstream, or downstream, oil and gas businesses can add improvements in their supply chains, turning logistics into a competitive advantage.

Final Thoughts

Applying the above techniques to further optimize your oil and gas supply chain can lower costs, boost efficiency, and mitigate risk. With a comprehensive TMS, an experienced consultant, and open communication channels, you can streamline and automate your business processes while ensuring compliance.

Learn more about how to optimally operate an oil and gas supply chain in an ever-changing global market.