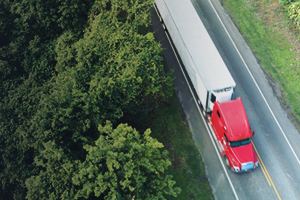 Many would argue that the role of transportation services within business has been changing over the past few years. I agree. But I also ask: is transportation what has really changed? Or is transportation only becoming increasingly important because of everything else that has changed?
Look at the sweeping advances in technology, the disruption to labor, and the influence consumers now have on demand planning and supply chain strategy. Those are the true influencers driving change in our industry—and on transportation services.
What role does trucking play in your business?
In my experience, companies approach trucking in one of two ways—an expense center or a strategic element of business performance.
All too often, I hear customers say, "We've always done it this way" when referring to the business processes and timing of events related to transportation. Just recently, I visited a customer who fell back on that reasoning, and that simple reason was unsatisfying to senior leadership. For many years, their same processes worked well because transportation was historically elastic and had low relative costs to inventory and the company's overall supply chain. But that's not always the case anymore as transportation costs are rising and market capacity is not offering a growth pace that the growing demand requires. This customer realized that it is time to change how they think about transportation.
In today's market, transportation requires increasing levels of strategy. Accordingly, many historical approaches to transportation are found to be less effective. Challenge yourself and your organization. Look at your requirements for surface transportation. Ask why each expectation is there, and if it still needs to be part of your process.
If your organization doesn't view trucking as a strategic initiative, ask yourself why not. Or better yet, bring in an outside perspective like C.H. Robinson to help you move beyond what has always been.
Where is the transportation market going?
Opinions are mixed regarding if available capacity is expanding or shrinking. I do hear agreement that demand is currently growing faster than the supply is—thus creating sustained market tension. The key to answering questions about the future of the market, lie in whether or not you believe the level of demand for transportation will continue to stress the supply of equipment.
If you think economic demand will soften in the near future, existing market tensions could dissipate, allowing supply to potentially catch up to demand, yielding a more balanced market. This would likely require new labor to enter the trucking industry as truck drivers' wages rise.
What supply chain processes and expectations should we influence?
So, let's say our "new normal" continues: a very highly utilized fleet and sustained management toward a balanced market. If labor pressures continue to add tension to a tight market, what we've always done simply won't cut it. Now is the time to take a more strategic approach to your truckload shipping. You will need to determine what supply chain process changes will have the most beneficial results to combat market conditions.
At C.H. Robinson, we can help you benchmark your surface freight strategies based on your unique attributes. We'll use your unique information combined with our portfolio of research based insights to offer opportunities you can use to influence your truckload route guides and price paid.