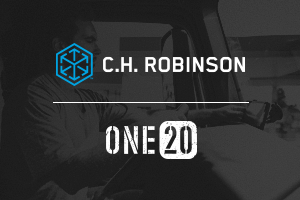 The ONE20 ELD Offering: Is It Right for Your Business? | The Road
With roughly five months to go until the electronic logging device (ELD) mandate is implemented, many carriers are in the process of choosing the right ELD for their business. In some cases, especially for small carriers and owner-operators, the cost of compliance could be relatively high.
That's why we have teamed up with ONE20, a truck driver based membership community, to provide a program that includes discounted ELD hardware for C.H. Robinson contract carriers.
C.H. Robinson creates solutions for our contract carriers that help enhance their businesses. Our collaboration with ONE20 and this new offering is just another way for us to solidify our commitment to our contract carriers. Offering low cost ELD solutions will help our contract carriers overcome any price barriers that stand in the way of compliance. Because our ELD solution helps our contract carriers become compliant, we're also able to help address shipper concerns about any potential impact to capacity.
Shippers: Discover some ways you can approach the mandate
While the discounted ELDs will support carriers of all sizes, we expect them to be particularly attractive to owner-operators and small carriers with 10 trucks or fewer who are looking to simplify ELD compliance.
Is the ONE20 ELD right for your business?
Is the ONE20 ELD right for your business? | The Road
Here are some criteria to help determine if this ELD is the best fit for you:
Fleet size: The ONE20 ELD is best suited for carriers that have between 1 and 10 trucks. Through this program, the hardware is discounted and the monthly fee typically applied to fleets of more than three units will be waived for C.H. Robinson contract carriers.
Additional services and reporting: The ONE20 ELD is minimally compliant. There are a number of value-added services provided with the program, but if you're looking for custom reporting or hours of service (HOS) tracking support, this might not be the right device for you.
Smartphone requirements: The ONE20 ELD is app-based. The hardware connects directly to the truck, but in order to be activated and used, the carrier or driver will need to have a smartphone to download the app and activate the device. It is also important to note that the app will require some data usage. However, battery power is not seriously impacted because information is only pulled once an hour or when an event change occurs during transit.
Cables: All devices require a cable for connection, which varies based on your equipment. Please see the cable guide to make a decision about what will work best prior to purchasing any device.
How do I get the ONE20 ELD offering?
How do I get the ONE20 ELD offering? | The Road
C.H. Robinson contact carriers will receive an email in the coming weeks with a discount code specific to purchasing devices for this program. That discount code can be used on the ONE20 -C.H. Robison ecommerce site. If you would like to participate but are not a current C.H. Robinson contract carrier, please visit our website and sign up today.
Where can I get more information about the ELD mandate?
Where can I get more information about the ELD mandate? | The Road
Choosing the right ELD for your business may require some deeper understanding of the mandate itself. We have a variety of resources available to you on our website, including a PDF version of our ELD white paper. And as there are a number of changes that can happen with ongoing regulatory changes, be sure to visit the FMCSA website for updates on the deadline for compliance.
About ONE20
About ONE20 | The Road
ONE20 is the first free membership community built exclusively for professional truck drivers, with the sole purpose of making life on the road more convenient, enjoyable and cost-effective. Members join ONE20 to connect with other drivers, plan truck-specific routes and save with deals along the way. The My ONE20 app is free and available on Android and iOS devices. The ONE20 F-ELD is available for purchase at www.one20. com/eld and currently available for Android devices, with iOS compatibility coming later in 2017.