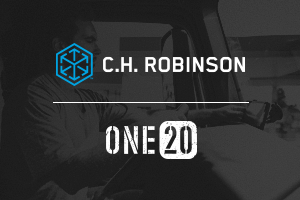 Supporting Carriers with a Discounted ELD Program | Transportfolio
Carriers across the country are in the process of choosing the right electronic logging device (ELD) for their business in preparation of the upcoming ELD mandate. Meanwhile, many shippers aren't sure what actions they should take—if any.

Carriers: Find out if the ONE20 ELD offering is the right option for you
Let's take a look at how carriers should approach complying with the ELD mandate, as well as some steps shippers can take to support their carriers as they become compliant.
Eliminating barriers to compliance for carriers
Eliminating barriers to compliance | Transportfolio
In some cases, especially for small carriers and owner-operators, the cost of compliance could be relatively high. That's why we have teamed up with ONE20, a truck driver based membership community, to provide a program that includes discounted ELD hardware for C.H. Robinson contract carriers.
While the ONE20 ELD solution supports carriers of all sizes, we expect it to be particularly attractive to owner-operators and small carriers with 10 or fewer trucks who are looking to simplify ELD compliance. Our collaboration with ONE20 and this new offering further underscores our commitment to the carrier community.
The right way for shippers to approach the mandate
Approaching to the mandate in the right way | Transportfolio
Even if the ELD mandate doesn't directly affect your business as a shipper, it likely applies to the carriers you work with. You may be able to use some of the same strategies we use here at C.H. Robinson to approach regulations like this:
1. Offer support. We are committed to supporting all of our contract carriers through any regulatory change. Our approach to the ELD mandate focuses on supporting our contract carriers as they become compliant. This support includes providing a low cost and simple ELD solution through ONE20. Offering support is a smart and helpful way to ensure compliance by the deadline.
2. Expect compliance. All of our contract carriers must comply with all federal regulations—this regulation is no different. A standard stance on compliance makes it easier to enforce.
3. Qualify all carriers. Our corporate carrier administration team handles all aspects of contract carrier qualification. Our strict process includes verifying insurance, contracts, operating authority, DOT ratings, and more.
Both shippers and carriers should always think ahead
Always think ahead | Transportfolio
By applying these three strategies throughout the ELD implementation process, we can help ensure that our contract carrier network stays at 68,000 strong. One of the largest concerns about the ELD mandate is tightening capacity. By supporting our contract carriers now as they become compliant, we're helping minimize that risk.
As we've all experienced, regulatory compliance dates can (and often do) change. Whether the ELD mandate will be delayed is yet to be determined. However, it's still important to support all carriers that wish to implement this technology now—as our low-cost solution with ONE20 does. We can't just think about now, but need to think about tomorrow too.