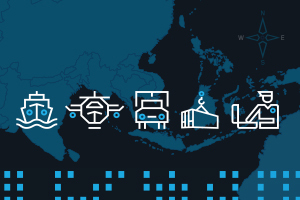 When I talk to worldwide businesses in Asia, Oceania, North America, or anywhere else, their chief concern is always the same: how do we meet our customers where they are to get them the products and services they want, all while keeping our own business strategy central?
It's a tricky tightrope to navigate. But one of the most common mistakes I see many companies make is positioning international supply chains merely as tactical support for larger strategies.
Jeff Cusack, our sales manager of Oceania, puts it another way: "Supply chains aren't just a means of fulfilling business goals—because they encompass everything that brings the product to a customer, they actually drive the business, rather than the other way around."
An efficient, highly visible supply chain gives a company an advantage in satisfying customers' changing demands and capturing more market share. But if you have a diverse, expansive international supply chain, how do you start to bring everything together?
Global supply chain management through technology
Until recently, single worldwide technology platforms weren't available to companies with international operations, resulting in disconnected, inefficient networks separated by language, currency, and culture.
Stripping away those information barriers, unified global technology platforms—like C.H. Robinson's integrated solutions—create end-to-end international supply chain solutions that generate visibility and enormous value:
Internal group alignment. Worldwide real-time technology creates a single, distributed, and authoritative supply chain "truth," breaking down silos for shared planning, quicker cross-functional problem solving, and smarter solutions.
Automatic process management. With automation tools, you can handle routine functions, eliminate visibility gaps, and save valuable staff resources for exception incidents and higher-level strategic planning.
Purchase order and vendor supervision. A single international system facilitates easy tracking of inbound materials, allowing you to see where to shift resources to meet interconnected demand (and understand which vendors are meeting your needs).
With all aspects integrated and communicating, your business stays central while information and product flow seamlessly around your network to satisfy customers. But this is only part of the picture—quality services and local expertise complete the fully flexible, efficient, and responsive supply chain.
Value-added services support supply chain integration
A good third-party logistics (3PL) provider offers not only strong technology but also a variety of value-added services for any kind of logistics delivery model.
Going beyond just transportation, integrated warehousing and distribution services help improve customer service, increase customs compliance, build consistent stability, and provide comprehensive business intelligence (all while mitigating inventory and moving costs).
Because these services are all offered by the same provider, it's far easier to improve delivery times and meet customers' diverse needs. Whether it's a one-time promotional item project or ongoing light assembly and localization requirements, good 3PL providers customize their services to move their customers' inventory in any market conditions.
Knowledgeable supply chain experts solve problems
Of course, when your product sourcing, manufacturing, and delivery span the world, challenges will arise. While technology can mitigate many issues, there's no substitute for working directly with qualified professionals you trust who can troubleshoot and provide options.
This sort of robust customer service really completes the best worldwide technologies and services, forming the secret ingredient that helps you face any disruption with confidence. No matter if you're dealing with vessel delays, a lack of capacity, natural disasters, or compliance issues, pairing end-to-end insights with industry experts' professional support and relationships creates a powerful information advantage.
How to prioritize supply chain strategy for business expansion
Whether you realize it or not, your global supply chain is at the heart of everything your business does. And keeping that supply chain unified, visible, efficient, and proactive is at the heart of more satisfied customers and faster business growth.
If you're considering potential global supply chain providers, be sure to ask how their teams can create value that complements their services and technology solutions. (Also ask how they'll apply that value to your specific business needs.) The best providers can demonstrate how they combine a full suite of services, technology tools, and on-the-ground relationships to offer innovative ideas, no matter where in the world you're operating.
For example, a quality 3PL provider might suggest novel ways to leverage localized bonded warehousing in China. If you're importing into Australia, taking advantage of warehousing and consolidation in Asia (rather than Australia) could lead to lower landed costs and potential tax breaks. By helping you see these kinds of connections and implications in your supply chain, the best 3PLs use their experience and scale to uncover multiple cost-saving opportunities.
In any case, when you're developing your next round of company strategies, don't forget to put your supply chain at the start of the conversation.