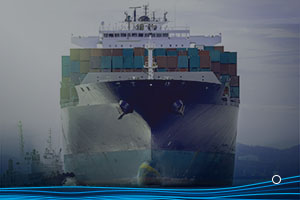 Peak season for ocean freight shipping is underway. Which means that, as it does every year at this time, space is about to get very tight. That can make it difficult to meet your delivery times unless you take proactive steps now to minimize the risk in your supply chain. Here's an easy way to think about the regular and potential future disruptors that could impact your ocean shipping strategy, and what you can do to prepare for what comes next.

Our proprietary Risk Calendar envisions times of the year when disruptions may occur, and why. It follows the stoplight key:
Green. Space is generally available. At these times of the year, you should see less risk to your standard ocean shipping strategy.
Yellow. Space is getting tighter. There may be instances where you will have to work more closely with carriers and book further in advance to ensure you can meet critical deliveries.
Red. Space is extremely tight and forecasting is imperative.
This blog examines the "red" times, like the roughly three-month period we have just entered that is historically one of the regular disruptors in the ocean freight market.
Regular disruptors
Regular disruptors make it very challenging to obtain space on vessels. If you fail to book in time, you may miss your delivery deadlines, or will have to use an expedited shipping method to meet them. With all of the regular disruptors, it's best to be as proactive as you can in your planning. Look ahead at your 3-month forecasts. Then, book the space you will need further ahead—at least 2 to 3 weeks before you need it—for best results.
These are historically the biggest disruptors that occur in our industry:
Chinese New Year (aka Spring Festival). This is a week-long celebration in China. You can anticipate the ramp up to this week, but note that it does not occur on exactly the same date every year. For example, this year, Chinese New Year occurred later in the season than usual, so we started planning with customers in mid-January, not mid-December, as we do in some years. You will find the dates of future Chinese New Year celebrations under the Potential Future Disruptors section of the graphic.
Traditional peak seasons. Shipping volumes are already increasing rapidly as retailers stock up for holiday sales. This enables them to mitigate the risks they face in making sure product is available on the shelf when consumers are ready to buy.
BRICS summit. The 9th annual BRICS (Brazil, Russia, India, China, and South Africa) summit is being held in Xiamen September 3-5, 2017 (the summit location rotates between its member countries). The major impact will be to hazardous cargo (majority of classes), with a hold on Xiamen port from August 1st to September 7th, including imports to Xiamen, exports from Xiamen, and transfers via Xiamen. In addition, some factories near the airport and conference will be closed August 20th to September 7th; exports from the area are likely to ramp up to account for the factory closures. All of this will cause a tightening of space for ocean freight shipping.
Golden Week. Each October 1st, people begin a 7-day celebration of the founding of the People's Republic of China. Although factories don't shut down in the same way as during Chinese New Year, carriers are likely to have limited staff. Many people try to take off work the week before the holiday. All of this causes a bump in volumes, increases carrier utilizations for the week, and makes space slightly harder to come by.
Potential future disruptors
These disruptors are not regular; they may or may not create significant impacts on ocean freight service that would increase your business risk. That doesn't mean they don't require some forethought. We stay alert for them to occur, and to help our customers know what to do in case they happen. History can inform how we approach the next significant event. For example, we can't predict when the next global recession will occur, but we can look at what happened last time and be ready to make the adjustments that proved most effective in managing risk.
These potential future disruptors are currently on our radar:
Carrier mergers and acquisitions & new carriers entering the market. Major carrier consolidation decreases the number of carriers in the market and often causes routing adjustments that could impact your business. As new carriers enter and try to take market share, disruption can occur in rate competitiveness. We already know what can happen when a major ocean carrier declares bankruptcy. These market disruptions require flexibility. Booking early is a good idea in certain situations. You can seek guidance on viable carriers from a reliable NVOCC; they can also help you develop a flexible carrier solution that prepares your supply chain for the most likely scenarios.
Union labor contracts. In 2014, a port strike at Los Angeles-Long Beach caused severe congestion and freight delays. On September 30th, 2018, it's the East Coast's turn for a potential labor strike. Keep your eye on events well before they occur. If it appears that no labor contract is in sight by September 1st, you should be prepared to divert your deliveries to the Gulf Coast ports or the West Coast.
Security. As the recent cyber-attack on Maersk showed, security risks exist for all of us. It's critical to evaluate your business processes before an attack. Determine where your supply chain may be vulnerable, and work with your ocean freight provider to develop scenarios for recovery from a variety of threats.
Final Thoughts
Disruptions occur. That doesn't mean you can't do anything. You can learn from the way that the market traditionally responds to common situations. And you can take steps in advance to prepare your supply chain and prevent disruption for your customers.
With so many options, ocean shipping can be challenging. Learn how we can help you assess and select the best ocean freight to support your global supply chain.