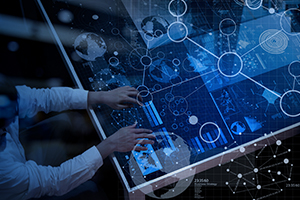 MIT Crossroads: An Opportunity to Imagine the Future of Supply Chains | Transportfolio
Technology, disruptors, opportunities—three core areas of discussion this week at the Annual Crossroads supply chain event at MIT's Center for Transportation and Logistics (MIT-CTL). The day-long event, if you haven't been able to attend in the past, brings together MIT researchers to share insights across technology, social, and supply chain research areas.

And while the content may feel futuristic, I've found that many businesses can use the ideas in their strategic supply chain planning. Throughout the day, the MIT-CTL strives to connect the insights to today's business and supply chain strategy. This year was another significant opportunity to imagine the future possibilities and forces of change for our industry.
It's a digital world out there
This year—as in past years—the topics were exceptionally interesting and thought-provoking. I especially was drawn to the idea of a business's "digital vision" and the prototype and production response time via additive manufacturing.
Researchers introduced how a digital strategy engages the customer and becomes integrated with the operational backbone of the organization. Having the ability to extend the customer engagement beyond traditional experiences can enhance the experience and lead to new product evolution and development. When it comes to the digital world, the opportunities are seemingly endless and provide an opportunity to evolve and bring more products to market quicker and more efficiently than ever before.
Virtual reality meets virtual analytics
No research symposium or discussion about technology is complete without a session on virtual reality. The MIT-CTL delivered in the form of an introduction to virtual analytics, looking at data in a virtual reality or augmented reality environment. This method of viewing and interacting with data enables users to understand and visually manipulate business analytics in new ways.
MIT is investing in a new lab to help test and evolve the ability to address quickly emerging technologies and virtual analytics is on that list. Imagine the near future where you can reach out and touch data, move it, run scenarios, and make decisions in a collaborative environment. This can have substantial opportunities for supply chain managers to drive efficiencies within their functions.
Block chain to bring supply chain efficiencies
Block chain is a subject you may not always associate with your supply chain. The researchers introduced the topic and framed it up as an opportunity for supply chain strategists to improve on current capabilities within the new sharing economy.
As block chain is employed, the promise of this new technology is to help make smarter and more efficient supply chains. Examples include making import documents available at the time of shipping, improving the flow of receipt, or even planning for the inland moving of a container.
The day at MIT was well spent—it is invigorating to imagine the efficiency yet to come to supply chains around the world. We are proud partners with MIT-CTL and continue to value the research they complete. Their researchers are bringing our imaginations to life and the future looks bright for supply chains.