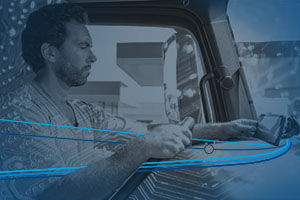 How Carrier Technology Affects Your Supply Chain | Transportfolio
From a shipper's perspective, new supply chain technology means things like visibility to shipments, proactive notifications before disruptions occur, and better forecasting for future improvements. But there's another side of that story to tell—the carrier's perspective. Technology to make a carrier's job easier is just as important, if not more so, to a successful supply chain. After all, without carriers, your freight wouldn't move.

I started with C.H. Robinson in 2007. From the very beginning, I realized the importance of building long-lasting carrier relationships. Those relationships mean that when my customers have freight to move, I have reliable carriers to call on to make it happen.
A lingering perception about carriers
I'm based in San Diego, CA, which means I help a lot of customers move their freight across the Mexico border. Over the years, I've noticed many of my customers—both large and small—have the misconception that carriers, especially those based in Mexico, aren't using technology.
But this couldn't be further from the truth. The carriers I work with—on both sides of the border—are highly committed to using new technologies.
3 reasons why carriers love new technology
Security- While this may apply to Mexico carriers more than U.S. carriers, it's still a compelling reason. Mexico does not require cargo insurance on truckload shipments, therefore track and trace and GPS technology is crucially important to knowing where freight is at any given time.
Building relationships- Carriers that haul strategically work differently than those that operate transactionally. Strategic carriers recognize that using technology can set them apart when they're trying to establish a relationship with a shipper or third party logistics provider (3PL) and help them become a "favored carrier."
It makes their lives easier- Simply put, carriers often use technology for the same reasons shippers do—it makes the job easier. The advances in carrier technology now allow a dispatcher to find, book, and assign loads to drivers with just a few clicks. And the loads they're finding can be tailored to match the next stop or get drivers home for the weekend. I know some of our proprietary Navisphere® Carrier tools like SmartMatch™, which helps carriers find loads faster with intuitive load matching, are truly changing the way carriers operate.
The main reason carriers don't adopt technology immediately
Despite all these positive reasons carriers are willing to adopt technology, there's often one reason why they don't. It's the same reason many of us aren't driving the sports car of our dreams. Price.
When carriers need to clear $1.60 per mile in order to break even, adding additional expenses for technology can make it difficult to turn a profit. Just as we see in consumer markets for the latest technology, once the price comes down, technology adoption rises.
What can shippers do to help improve carrier technology adoption?
The first step you should take is to have a conversation with your carriers or logistics provider. Open communication plays a big part of establishing strong carrier relationships. And those relationships can make the difference between a carrier adopting technology now, or not at all. If you still have questions about carrier technology, connect with one of our experts today.
Want to learn more about new carrier technology? We've got you covered.