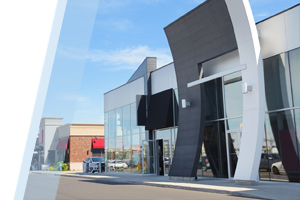 With more than $56 billion spent online via desktop devices and $12 billion via mobile devices in the United States during the 2015 holiday season, it's no wonder that the most discussed topic at this year's RILA conference was ecommerce and its effects on supply chains. The consumer shift to ecommerce is a major disruption to retailers and they are quickly trying to adapt.

I won't try to summarize all that we heard and discussed during this year's RILA Retail Supply Chain Conference, but instead highlight three concerns retailers are addressing to remain competitive and provide their consumers with the goods they want.
Product Mix in Stores and Online
Retailers we heard from are working to have a balance of store and online sales. To do so, they are closely examining which products are likely to be purchased in each scenario and stock to those assumptions. For example, consumers are moving toward making everyday purchases online once they have already tried a product or brand. Lesser known brands, products with variability, or newer products often fare better as in-store purchases as consumers still prefer to touch and see the product. Identifying how consumers are interacting with products and brands can help retailers determine where and how to stock those products.
Flexible Delivery and Pickup Options
Consumer behavior shifts aren't limited to where they are shopping—online or in brick-and-mortar stores—and are also starting to reveal that consumers demand a lot more from retailers. Retailers need to balance how to fulfill the requirements of ecommerce including a myriad of delivery options: store pickup, drop-off locations, delivery to work or home, etc. With these delivery options, retailers face challenges in having supply in the right location at the right time. Store pickup options can create supply issues in stores if retailers aren't able to anticipate local demand for both online purchases and in-store purchases.
Final Mile Delivery for Online Sales
In addition to offering flexible delivery options, retailers are focusing on final mile delivery for online purchases as a critical component to their customer service. Consumers dictate when they want products delivered, and retailers are striving to deliver the products in that timeframe. Whether the delivery is to be made in 2 hours, 6 hours, 2 days, or even a week, consumers want options—and they want their products when they want them. Retailers must have merchandise available to meet these demands and, for longer delivery times, may have to hold merchandise until a certain time to ensure delivery occurs on time. Final mile delivery is challenging many retailers' current processes and they are evaluating how to evolve those to meet changing needs.
Final Thoughts
As technology continues to evolve, consumer behaviors and expectations will continue to change to take advantage of emerging technologies. Retailers must evaluate their supply chains and implement changes if they want to continue achieving growth objectives and margin expansion through efficiency. Retailers have two choices: They can react to changes or proactively seek competitive advantages by anticipating emerging technologies and implementing a flexible supply chain.