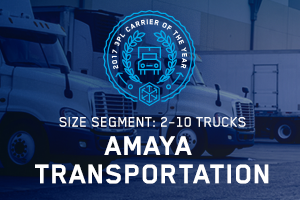 Carrier Spotlight 2018: Amaya Transportation | The Road
We all have visions for where life will take us. But I've only known a few people courageous enough to take the leap of faith required in chasing the dream. And they are truly remarkable individuals. The founders of Amaya transportation, Veronica and Manuel Amaya are exactly those people. They've made the leap and are succeeding in their dream every single day.

Carrier of the year: 2-10 truck segment
Although Veronica still can't believe it, I'm happy to announce that Amaya Transportation is C.H. Robinson's Carrier of the Year in our 2-10 truck segment. Amaya Transportation is the second contract carrier that C.H. Robinson has recognized this year. And they certainly deserve it.
I've always appreciated the hard work everyone from Amaya puts in to make sure loads arrive as they should, not to mention their willingness to try new technology and automate whenever possible.
The ability to automate check calls and status updates is one of Veronica's favorite aspects of hauling for C.H. Robinson. It makes life a lot easier for Veronica—and means fewer interrupted naps, showers, and meals for drivers.
Turning a vision into reality
Both Veronica and Manuel had previous experience in the trucking industry. Veronica had worked in dispatch for several companies and Manual had driving experience. Four years ago, they sought to change things up. They decided to start their own transportation company. Amaya Transportation was born.
Veronica and Manuel started with a single truck and trailer and in less than five years, the company now owns five trucks and six trailers. Veronica still handles dispatch and Manuel still drives a truck, but the business has truly changed their lives.
In my experience
There's nothing more humbling than knowing someone else relies on you. As Veronica's primary contact at C.H. Robinson, she often tells me that we make it possible for her to take care of her kids, husband, and business all while working from home—something that wasn't possible when she worked for someone else.
I enjoy knowing how important our relationship is to the continued success of their business. Over the years, Veronica has become more than a carrier I work with. We work so well together that we've truly become a team.
To the next dreamer
Owning your own company is certainly not a job for the faint of heart. And it's not right for everyone. But if you've ever had a dream—whether it's to become an owner/operator or go back to school—I advise you to listen to stories of others who have been successful in their dreams.
Veronica and Manuel put in the hard work from day one, and continue to do so every single day. That makes all the difference in their continued success.
Congratulations again! Amaya Transportation certainly deserves to be a Carrier of the Year.