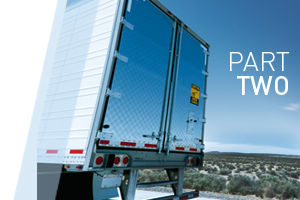 In the world of project logistics, no two shipments are the same. Each shipment is unique and has its own set of challenges. However, there are some common elements that need to be considered before moving a wind turbine, a transformer, or a module. Because pictures speak volumes, below the five general traits, are pictures of shipments that C.H. Robinson Project Logistics coordinated.
When Project Logistics plans a shipment, it uses 5 general traits.
Shipment Specification (weight and dimensions): This may seem obvious but it's a key component in deciding what type of trailer will be required for inland trucking-transportation. Some pieces would be able to fit, for example, on a 16- or 19-axle lowboy combination. But if the length of the piece does not allow for it to be placed on the trailer's well space, then other specialized equipment will have to considered—for instance, a bolster and steerable dolly.
Center of Gravity: This is a crucial component for heavy/over-dimensional freight. For example, some cargo will be designed and fabricated where the majority of the weight is toward one side of the piece and therefore, in order to compensate this imbalance, it needs to be placed on that side of the trailer accordingly (see picture 3).
Origin and Destination: Depending on how large and heavy the cargo is, the potential route(s) for transportation may be limited due to bridges (height and/or weight capacity of the bridge) road restrictions, construction, permitting, street-furniture, etc. There are times, again due to the size of the units and permit approval, where the only way to transport would be to use river barges instead of using trucks or railcars.
Securing/Lifting/Lashing Points: This is vital when one considers the actual handling of the cargo. Regardless of the mode of transportation, project cargo has to be securely and legally fastened to a platform of sorts and, depending on the intricacy of the move, there may be several times where a piece of cargo would have to be lashed, unlashed, and lashed again.
Onsite Supervision: Project cargo can be very complex and one can have the best plan 'on paper'. However, theory does not always translate efficiently into practice. An experienced project manager supervising onsite can make all the difference in ensuring everything is achieved as planned or, if something goes array, it is coordinated properly.
Life within C.H. Robinson Project Logistics is never dull. Ask me questions and tell me your story.