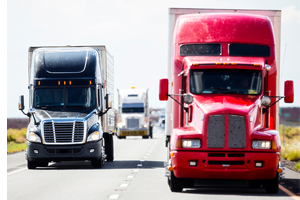 2017 Regulations Update: Top 4 Issues Affecting Trucking this Year | The Road
Recently, I had the pleasure of being a guest on Dave Nemo's Road Dog radio show. We recapped some of the big stories in trucking regulations in 2016 and discussed the issues coming up in 2017. Here are the top four issues I will be following in 2017:

Change in DOT and FMCSA leadership
This will be the number one issue I watch in 2017. I plan to follow the new leadership of the U.S. Department of Transportation by Elaine Chao as well as who she picks to head the Federal Motor Carrier Safety Administration (FMCSA). Will draft rules like the speed limiter rule ever see light again? What will happen with the Compliance, Safety, and Accountability (CSA) program?
Infrastructure bill
Will there be a massive infrastructure bill in 2017 as promised by President-elect Trump? The wish list for the new session of Congress is already quite long. Will they take up a bill to massively increase infrastructure spending even though they passed a five-year bill in December 2015? Many on the Hill see momentum to fulfill this infrastructure promise; but questions still linger about the funding mechanism and timing.
ELD implementation
While Owner Operator Independent Drivers Association (OOIDA) has requested a rehearing of their electronic logging device (ELD) lawsuit, it appears that ELD implementation will march on toward a December 2017 implementation date.The market for ELD providers continues to grow and remains very competitive. But will there be any bumps in the road toward implementation? Some of The Road's previous posts look more in depth at the impact ELDs may have on the trucking marketplace:

ELDs: What You Need to Know
How the ELD Mandate Will (and Won't) Change the Marketplace
Top 3 Considerations for Implementing ELDs

Corporate tax reform and depreciation rules
If Congress passes a significant tax reform package, will they allow for 100% depreciation of new equipment purchases? This could potentially alter the economics of new truck purchases for carriers and owner-operators.
The year is already gearing up to be a transformative time for the transportation industry—especially from a trucking regulations standpoint. What are your thoughts on the year ahead and these four key issues? Post your comments below.